By – Daniel Shi
Naturals Drop Series To SodPoodles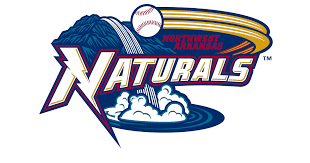 The Arkansas Naturals dropped the final game of a six-game series against the Amarillo Sod Poodles on Sunday.
What Happened?
Naturals starter Beck Way struggled with command early issuing five walks in the first two innings including three straight to start the second and load the bases with no outs. A bloop single off the bat of left fielder Jonathan Guzman and a passed ball on a cross-up gave the Sod Poodles a 2-0 lead. An RBI groundout allowed all three leadoff walks to score. Way's start lasted just 1 ⅔ innings and his ERA now stands at 15.19 on the season.
The Naturals had plenty of traffic early in the game but could never quite get the big hit against starter Deyni Olivero to bring home a run. Seven runners were stranded in the first four innings, including the bases loaded in the bottom of the fourth. A routine fly ball off the bat of shortstop Tyler Tolbert to right field ended the threat.
"We didn't hit with runners on today," manager Tommy Shields said. "Which was a big problem. They got the hits with runners on, we didn't. So we could have won the series and we didn't so onward we go. "
The Naturals finally got a run on the board in the fifth, on a bloop RBI double just inside the foul line outside the first base bag off the bat of right fielder Jorge Bonifacio, allowing second baseman Peyton Wilson to score all the way from first with two outs.
The Naturals sent two balls to the warning track in the sixth and the seventh but had a hard time figuring out lefty reliever Andrew Saalfrank, who turned in two innings of scoreless baseball with no walks and three strikeouts.
Second baseman Tim Tawa tacked on an RBI double in the top of the eighth into the right-center field gap for some insurance. Catcher Juan Centeno tacked on an RBI single to stretch the lead to 5-1.
The Naturals got one of the runs back in the bottom of the inning with a solo homer by third baseman Jimmy Govern, but it was a day late and a dollar short as the Naturals dropped the final game of a six-game series 6-2.
What Is Next?
The Naturals now hit the road for a six-game series on the road against the San Antonio Missions Tuesday at 7:05 p.m. The game will be streamed on MiLB.TV.