By Khala Hoyle
Tigers Open 2023 Season with Dominating Win Over Bethune-Cookman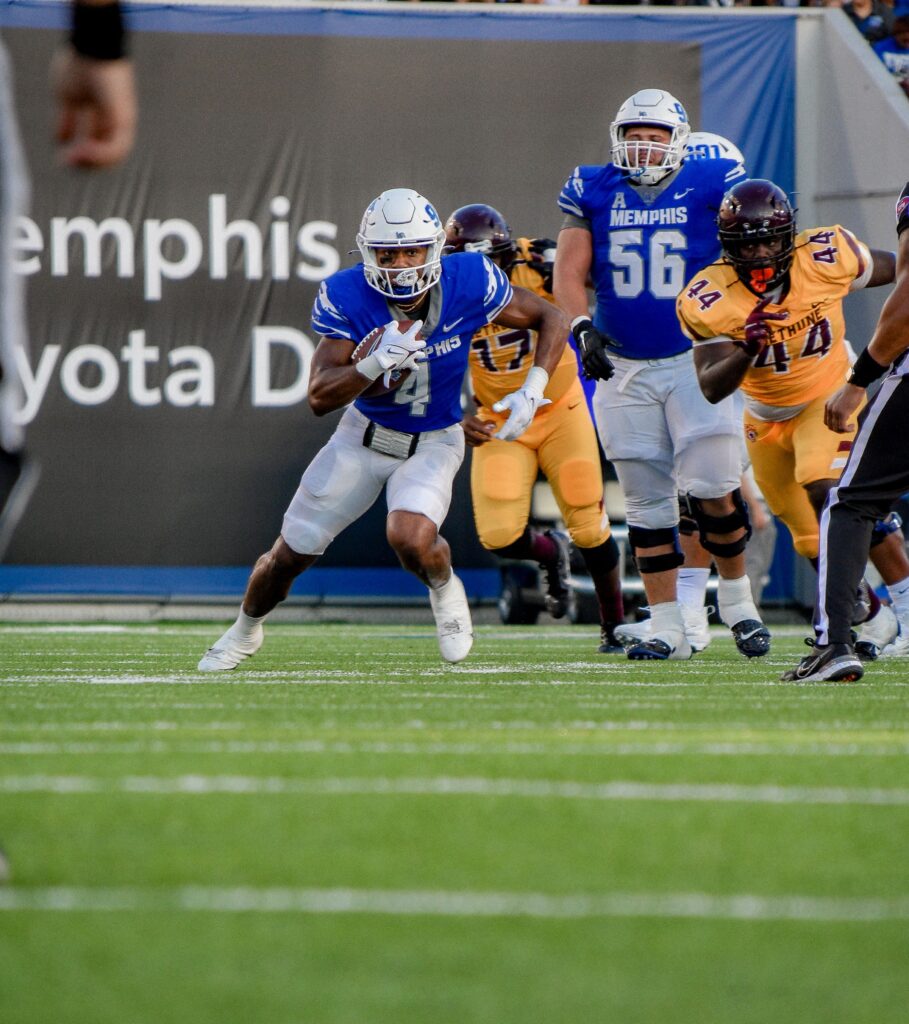 MEMPHIS, Tenn. – The University of Memphis football team opened the 2023 season with a convincing, 56-14, victory over Bethune-Cookman on Saturday night at Simmons Bank Liberty Stadium. The 42-point win is the largest in a season-opener since the Tigers (1-0) beat Mercer, 66-14, in 2018.
Both sides of the ball had their fair share of highlights on Saturday night. Offensively, the team racked up 551 yards of total offense and had 27 first downs. Defensively, the Tigers limited the Wildcats (0-1) to just 91 total yards, marking the first time a Memphis opponent had less than 100 yards since SMU in 2015 (97).
Sophomore running back Sutton Smith rushed for a game-high 115 yards on 18 carries with a pair of touchdowns for the Tigers, while fifth-year running back Blake Watson had 75 yards on 10 carries, tallying three, first-half touchdowns.
Junior quarterback Seth Henigan completed 27-of-36 passes for 334 yards and two scores, while wide receiver DeMeer Blankumsee recorded six receptions for a game-high 98 yards and a score.
Defensively, Andres Fox had a team-best five tackles for the Tigers to go with one sack, 1.5 tackles for loss, a forced fumble, a fumble recovery, and a pass breakup. Defensive back An'Darius Coffey had four tackles, one sack, and a quarterback hurry, while both CorMontae Hamilton and Jaylen Joyner also posted sacks in the win.
Leading,10-0, after a Watson two-yard touchdown run and a 45-yard field goal from Seth Morgan, the Wildcats cut the Tiger lead to just three on a 69-yard interception return for a score from Amarie Jones. That's as close as Bethune-Cookman would get, however, as the Tigers seized control of the contest, scoring the game's next 46 points.
Simply put, the Memphis defense had a tremendous showing. The Tigers limited the Wildcats to just four first downs, 39 rushing yards, and 52 rushing yards on the night. The team also extended its impressive turnover streak with the forced fumble and recovery from Fox in the second quarter. Memphis has now forced at least one turnover in 16 of its last 19 games. Over that stretch, the Tigers have totaled 24 interceptions and 11 fumbles.
Special teams also flourished in the win, as Morgan converted both of his field goal attempts (45, and 26 yards) and made all six of his extra points. Punter Reid Bauer averaged 40.5 yards on his two punts, including one inside the 20-yard line, while kicker Tristian Vandenberg recorded seven touchbacks on his 10 kickoffs.
With the win, the Tigers improved to 26-1 in the team's last 27 non-conference games at Simmons Bank Liberty Stadium. Memphis also improved to 42-7 (.857) at home since head coach Ryan Silverfield joined the coaching staff in 2016. As a head coach, Silverfield is 17-4 (.810) at the Simmons Bank Liberty Stadium.