Memphis Welcomes Navy For Thursday Night Conference Battle
The University of Memphis football team is gearing up for an important conference showdown against Navy at Simmons Bank Liberty Stadium on Thursday, September 14. The game, which will be nationally televised on ESPN, marks the Tigers' first AAC (American Athletic Conference) game of the season. With both teams looking to make a statement, the stage is set for an exciting and highly anticipated matchup.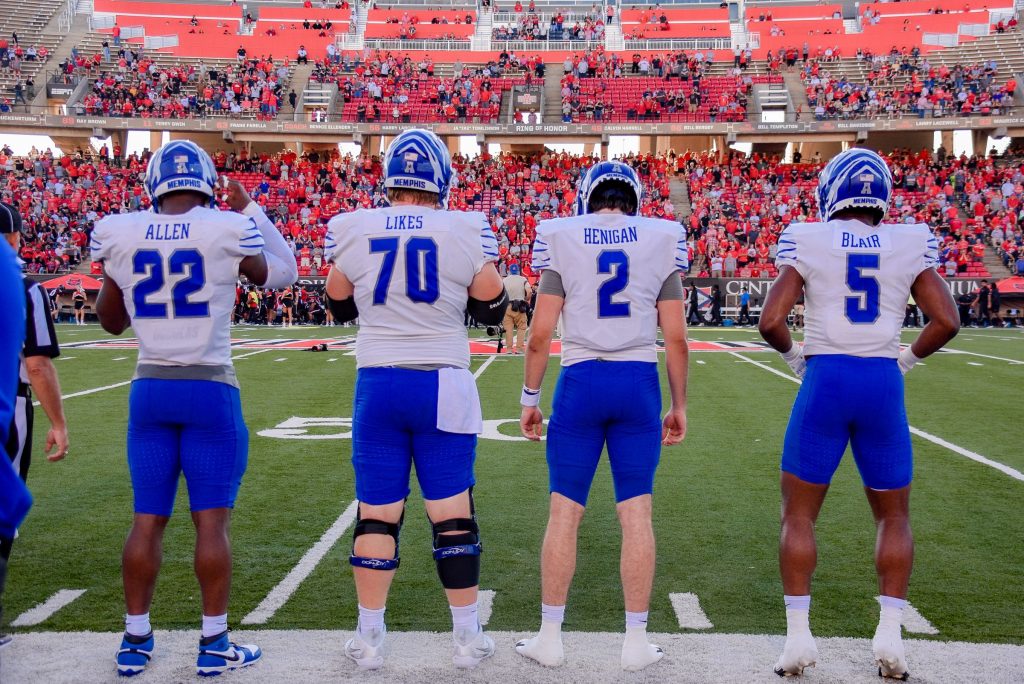 Recent Performances
The Tigers enter the game with a perfect 2-0 record after a convincing 37-3 victory over Arkansas State in their previous outing. The team's strong start to the season has generated momentum and confidence, which they hope to carry into the conference battle against Navy.
Scouting Navy
Navy, under the guidance of first-year head coach Brian Newberry, aims to bounce back after a tough season opener against Notre Dame, where they suffered a 42-3 defeat. However, the Midshipmen regained their footing with a 24-0 win over Wagner in their most recent game. In 2022, Navy posted a 4-8 overall record and a 4-4 conference record. While the team was initially projected to finish ninth in the AAC, they have a chance to prove the skeptics wrong and make a statement against Memphis.
Series History
Thursday's game will mark the ninth meeting between Memphis and Navy since 2015. Currently, Memphis holds the series advantage with a 5-3 record, including a 37-13 victory over the Midshipmen in their last encounter. Notably, that win saw Memphis score the most points in Tiger history against Navy. Quarterback Seth Henigan played a crucial role in that game, throwing for 415 yards and two touchdowns. The Tigers have also won the last four games in the series, indicating their historical success against Navy.
Keys to Victory for Memphis
1. Let Seth Henigan Sling It
With a strong track record against Navy, quarterback Seth Henigan will be a key player for Memphis. Henigan has previously had impressive performances against the Midshipmen, including a 400-yard passing game in 2022. Memphis will rely on Henigan's arm and decision-making to exploit Navy's defense and continue their success in the series.
2. Defend Home Turf
Under head coach Ryan Silverfield, Memphis has been dominant at home, boasting a stellar 17-4 record. The Tigers' defense has also been impressive in the early part of the season, allowing only three points in two games. Defensive coordinator Matt Barnes will have his unit prepared to counter Navy's unique triple-option offense and ensure that their home-field advantage remains intact.
3. Show Up for the City
Coach Silverfield has emphasized the significance of this game for the city of Memphis. With national TV coverage and a prime-time slot, the Tigers have a chance to showcase their program and garner support from their passionate fanbase. The team's 2-0 start provides an opportunity for the city to rally behind the Tigers and celebrate their success.
As the University of Memphis prepares to face Navy in a crucial conference battle, the stage is set for an exciting matchup. With a strong historical record against the Midshipmen, the Tigers will look to build on their early-season success and continue their dominance in the series. Led by quarterback Seth Henigan and backed by a staunch defense, Memphis aims to defend their home turf and make a national statement.