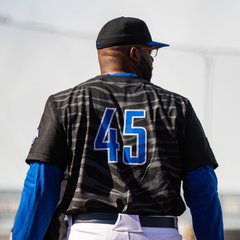 The Memphis Tigers baseball team won their first road game against UCA on Tuesday in Conway, 8-6, to improve to 7-2. The seven wins are the most to start a season since the 2014 season when Memphis began with an 11-1 record. The Tigers will hit the road for a three-game series, in Thibodeaux, Louisiana, with 6-4 Nicholls this weekend. The Tigers and Colonels will meet for the twelfth time in program history, with Memphis trailing the series by three, 7-4. Can the Tigers even the series this weekend? 
We will look at who will be on the mound this weekend for the Tigers, how they pitched this season, some players to keep an eye on from the plate, and when these games will take place. With game one being Friday, let's look at who will be on the mound for the Tigers.
On The Mound
Friday
On the Mound, for Memphis to start the series, there will be lefty senior Dalton Fowler, who is 0-1 on the season. Fowler has two starts on the season with 16 strikeouts and eight walks in ten innings pitched. On Friday, Fowler would get his first start last weekend, against Youngstown State, in a 6-2 loss. The lefty will be looking for his first win of the season in his third appearance as he faces a Colonels team who is batting .279 as a team with nine home runs, 25 doubles, two triples, and 68 runs scored. Nicholls has an on-base percentage of .381 and is 19-23 in stolen bases. This team will be a challenge for the Memphis pitchers, and it will start with Fowler.
Saturday
Saturday will feature lefty junior JT Dalton. Dalton comes in 1-0 after a 3-1 win last Saturday against Youngstown. Dalton would pitch seven scoreless innings, shut down the Penguins with seven strikeouts, four hits, and two walks, and earn the AAC weekly honor roll for his efforts. Dalton has a 3.72 ERA with eight strikeouts and three walks in nine innings of work in the early season. Memphis hopes for another dominating performance from the hometown slinger in game two this weekend.
Sunday
In the final game of the series, Memphis will throw freshman, Seth Garner, to try and close the series on the road. The right-hander has had nice command and precision in his eleven innings of work. In these innings, Garner has eight strikeouts and two walks in two appearances and comes in with a 3.09 ERA. Garner will be looking for his first win in this appearance.
From the mound this season, Memphis has a 5.33 ERA while giving up 89 hits, 56 runs, 37 walks, and 86 strikeouts as a staff while giving up a batting average of .280.
From The Plate
Memphis from the plate has been hitting at a prolific pace. The Tigers are hitting .304 as a team, with 77 runs, 97 hits, 20 doubles, three triples, 177 touched bags, and 18 home runs to start the season in 319 at-bats. Memphis has several players hitting the ball well this season, but we will focus on two.
Anthony Hansen
The first is a senior transfer, Anthony Hansen, who is batting .412 to start the season. Hansen has ten runs, 12 walks, 14 hits, three doubles, and four home runs in 2023. As well as a slugging percentage of .853, five RBs, 29 touched bags, and an OBS of .595 in 34 at-bats. Hansen currently leads the AAC with his mentioned OBS and walks. He also sits second in league with his hits, home runs, slugging percentage, and total bases. Hansen is on an eight-game hitting streak to boost his career at Memphis.
Austin Baskin
The second player of mention this week from the plate is Austin Baskin. Baskin comes in with a team-leading .448 batting average in his eight games. He must continue his 13 hits, nine runs, three home runs, and nine RBIs in 29 at-bats for Memphis this weekend. Baskin and others will need a hot bat to continue the success of the early season.
Who Plays When?
As mentioned, this will be a three-game series. Game one will be Friday night, with the first pitch at 6 pm. Saturday will begin at the same time as the Friday slate. Sunday will have the first pitch at 1 pm. Memphis head coach, Kerrick Jackson, would have this to say about this weekend's opponent.
"They're a competitive program," –
"Coach Silva has done a great job since he's been there, and I think his team embodies his attitude. They'll be a tenacious, scrappy group who will get after you from the first pitch to the last pitch. We need to go down there and throw strikes, have competitive at-bats and play clean baseball." – Kerrick Jackson.