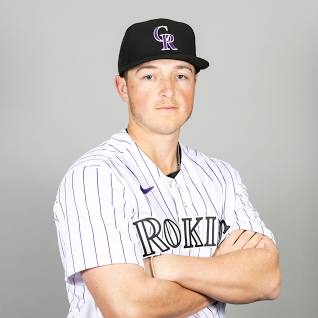 In a sport that often highlights the power of veterans and seasoned players, the Colorado Rockies have found an unexpected hero in 23-year-old Hunter Goodman. The rookie first baseman made his debut on Sunday, August 27, 2023, in Baltimore, showcasing his potential with a performance that could only be described as stellar.
Goodman's first start was nothing short of a whirlwind. After a pop-out play on the first hit from Adley Rutschman, there was a bee delay, something quite unusual in a baseball game. The rookie didn't let this affect him and ended the first inning with an impressive catch on a throw from shortstop Ezequiel Tovar.
In his first MLB at-bat, Goodman sent a fly ball deep to the warning track at the top of the left-center wall. Although the ball didn't leave the park, Goodman's ability to make contact with power was an encouraging sign for the Rockies' coaching staff and fans alike.
In the top of the fifth, Goodman struck out but bounced back in the sixth with a single up the middle, earning his first MLB hit and RBI. The single, which came off a first-pitch slider, had an impressive exit velocity of 85 mph.
Goodman's defensive capabilities were also on display in the bottom of the sixth, where he made a pop-out play in foul territory for the first out, again hit by Adley Rutschman.
The game took a turn in the bottom of the eighth inning when the Rockies' 3-1 lead vanished after Ryan Ohearn hit his 11th homer of the season. With the game tied at 3-3, the stage was set for the rookie to shine.
Goodman led off the top of the ninth inning and reached second base on an error. He was moved to third on a groundout by right fielder Michael Togila and later scored on a groundout by Elias Diaz, putting the Rockies ahead 4-3.
In the bottom of the ninth, Rockies closer Justin Lawrence entered the game and shut down the Orioles' offense. The final out was fittingly made by Goodman, who caught Austin Hays' fly ball, sealing the victory for the Rockies.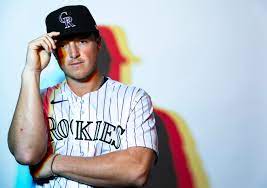 The Rockies' decision to start Hunter Goodman paid off in his debut. His performance showcased both his offensive and defensive skills, and his ability to handle pressure in high-stakes situations bodes well for his future in the major leagues. Goodman's rookie performance was a clear indication that he is ready to make an impact in the MLB. The Rockies will surely be looking forward to seeing what this promising young player can achieve in the rest of the season and beyond.