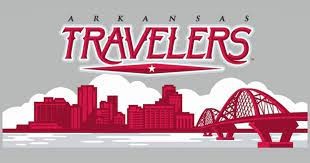 In 2023's first edition of the newly named Natural State Rivalry, the Travelers utilized a series of mistakes by the Naturals to propel them to an opening game win.
What Happened?
The Travelers and Naturals pitching staffs were throwing scoreless and mostly hitless games until the bottom of the third. In that inning, the Travelers were the first to break through after a series of walks and timely steals put two runners in scoring position. This was the perfect time for a Robbie Tenerowicz ground-out RBI.
This was followed by a Robert Perez Jr. single brought in two runs to break the tie. Not to be outdone and maybe a sign of things to come in this series, the Naturals answered with a two out-two run home run in the top of the 4th tied it back up.  
The teams began to punch and counter-punch each other through the 7th inning. The Travelers took a one-run lead again, just to turn around and the Naturals took the lead off another two-run home run in the top of the 7th. The Travelers played some small ball in the following inning with a sac bunt to put two runners in scoring position, and a sac fly to tie the game going into the 8th inning.
The Naturals threatened in the top of the 8th by loading the bases but would end their side by striking out. Then comes the bottom of the 8th.  After back-to-back walks to open the bottom of the 8th, a flyout to center field advanced the pinch runner Riley Unroe to third.
The Naturals decided to intentionally walk Logan Warmoth to load the bases, then unintentionally walked the next batter to put the Travelers in front, then comes the crazy. The Naturals head coach was ejected by home plate umpire Chris Presley-Murphy, after the delay a pitching change was made and Dante Biasi got Connor Hoover to ground out but scored Isiah Gilliam from third.
The next batter was again walked to load the bases yet again for the Travelers, where Jonatan Clase reached on a throwing error by Naturals third baseman Jeison Guzman and scored two more runs giving the Travelers an 8-4 lead that they would not relinquish. 
What's Next?
The Travelers and Naturals will pick it up and do it again on Wednesday, May 10, with a projected start time of 6:35 pm.