The Memphis Redbirds fell to the Stripers from Gwinnett 5-2 on the first "Throwback Thursday" of the new season. Memphis looks to even up the series tomorrow night against the Gwinnett Stripers with the first pitch at 7:05 pm.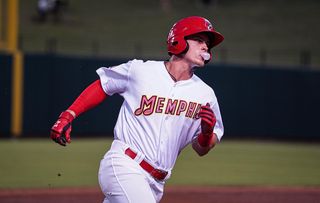 On a good note, Gorman looks to have a steady glove at 2nd Base turning a 4-6-3 double play in the top of the 1st inning. In his first at-bat, Gorman hit a slow roller to Gwinnett shortstop Braden Shewmake for the putout to 1st Baseman and former Memphis Redbird John Nogowski.
In the 4th inning, we saw that pop off the bat that everyone has been talking about but a spectacular catch by Gwinnett Center Fielder Justin Dean robbed him of a home run. Nolan hammered the ball, but on a chilly Memphis night, the ball died at the warning track.
Nolan's next at-bat came in the bottom of the 6th inning. He took a high pitch on a called third strike by the home plate umpire. Nolan immediately looked back and disagreed with the call. Gorman was then subbed out for the Cardinals' 12th ranked prospect according to MLB pipeline Brendan Donavan in the 7th inning.