P.S. Memphis, I still love ya
Twenty years can fly past you in the blink of an eye. Your kids grow up just a little too fast, the relationships you carry mean just a little bit more, or the memories and nostalgia that suffocate you linger a little longer. College football brings you back to those memories each fall afternoon or night, and you can't help but fall in love with it all over again. 
It's easy to love a sport and a team that can make you feel the feelings of agony and bliss all in a matter of a few seconds. Former Memphis Tiger football coach Tommy West and former linebacker Will Hyden can say the same, but the place this team and the city stay close to their memory and soul after it made such an indelible mark on them and their families.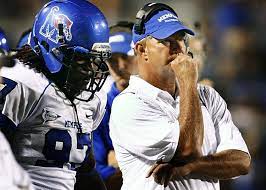 Let's travel back to 2003. Memphis was amid a 32-year bowl drought, and the optimism Coach West displayed was almost unfathomable. He had the locker room believing they could pull off one of the biggest stories of the city in the last 50 years. The fan base was optimistic, but let's not kid anyone; they weren't delusional. West was ready to send shockwaves through the city that Memphis Tiger football was back.
"It was a very special year. I can remember when I accepted the job all the people who said, 'Just don't tell us we are going to a bowl game,' West said. "I have always thrived on trying to do what people say can't be done or hasn't been done in 32 years. That is some good stuff. This was a team that never gave up. I will never forget the 2003 team. One of my favorite years in coaching."
That team had stars on the roster, not just some regional names that made a difference on Saturday and then embarked on careers after football. They had four players that would spend time in the NFL.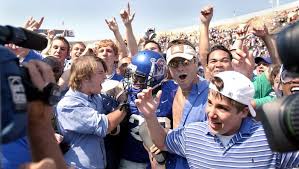 DeAngelo Williams spent 10 years in the league with Pittsburgh and Carolina. Stephen Gostkowski had a 15-year career with the Patriots and Titans, plus racked up three Super Bowl rings with New England. These are just a clue of examples of the talent Coach West witnessed each day, and he knew the potential was there for a special season like the one in 2003.
"A lot of players and coaches contributed to that season. We all remember DeAngelo, Wimprine, and Gotkowski. Some guys I remember sacrificing and playing their tails off were Will Hyden and Wesley Smith on defense. Darron White was a big contributor on offense, but I can't ever forget what Lakendus Cole did in the Bowl Game. What a special night."
To understand that team, you have to understand the city itself. It's flashy and bright with the neon lights and music of a painful soul just trying to make a buck playing on a busy street corner. It's easy to roll out a masterfully smoked plate of ribs, dry rub only because anything else is blasphemy, and pump some slow blues into a run-down diner inside a building that has been standing for over 60 years. The chairs and tables look like their best days were behind them, and the decor on the wall was retro before that was in style.
People who lived in the less traveled areas near downtown and throughout the city were entrenched in a way of life that, for decades, cheered for and fell victim to Memphis football. They didn't see age, color, or differences in ways of life; they shared a kinship of tears that were shed over missed kicks, overthrown passes, or missed calls by referees. They were the moments that tied us all together and made us who we are now.
Former Tiger linebacker Will Hyden knew that the hard times they experienced in the previous years helped shape the class's identity that tied them and the city together.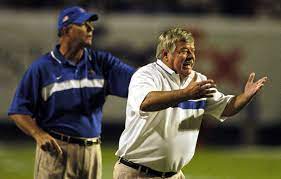 "To all my fellow "Packer Day" survivors that played under Coach Dunn," Hyden said. "That kind of bond is hard to break. We all went through things that were incredibly hard mentally and physically, and going through those types of experiences builds connections that last a long time."
This is why this beat-up, old building is so important; it's etched in Memphis history just off Beale St. It was once vibrant and full of life in its heyday. The other buildings are now run down and old, but they all fought to stay alive over the years to see the area make its well-deserved comeback. That building was the '03 Tigers, and they were about to give the city its well-deserved comeback.
Hyden and that senior class knew this old building (the Memphis program) was due for revitalization, and they had the keys to making that happen with Coach West and his staff. West also gave them a gift that kept on giving: life lessons that they could carry and pass on to family, players, and friends alike.
"I think a lot of our resilience came from Coach West," Hyden said. "He had an unwavering belief that we were going to turn this around and do something special," Hyden said. "He was always confident, no matter what was happening, that we would find a way to be successful. Most of us defensive guys had been around him already for a couple of years, and we all loved his passion, his grit, and his mental toughness. No matter what the situation, he always seemed to have an answer to the problem, and he could rally us together to overcome it."
That team 20 years ago mirrored a city that worked hard and fought hard to stay alive. They came from nothing and were going to work until they were somebody. Those Tigers and their fans wanted the college football world to know they were a force of nature. 
"On that five-game-winning streak, you could literally see the stadium filling up with more and more fans each week," Hyden said. "To players, that means the world. It gives validation to all of our hard work and sacrifice. It gives you energy, motivation, and pride to represent something that is bigger than yourself."
Winning six of the last seven games to close out a season is a statement. Coach West knew that he was entering unique territory, not only making a bowl and the chance to win multiple bowls.
"It is quite an honor and is a credit to some very special players and coaches who bought into a system and believed we could do special things," West said. "if we outworked people and stayed positive regardless of the outside noise. I kept hearing the same ole Memphis, but they never listened. They stayed positive and believed in themselves. I am very proud and honored to have been their coach."
That season and team held a special place with every person associated with it, and that was not all Tommy West; that was the players, the fans, and the keepers of the Liberty Bowl.
Coach West had a favorite moment from that season, and as he and the team kept fighting adversity, he knew the group was about to turn a corner and that something good was about to happen; it just had to.
"My favorite moment from the 2003 season was actually in the 2nd half against Miss State," West said. "I thought we were improving as a program and a team, and then we played really bad in the 1st half. Then, in the 2nd half, we looked like the team I thought we could be. We didn't win but played really good in the 2nd half. At the press conference on Monday, I was asked if I felt any pressure being 3-3 at mid-year in my 3rd year. I'll never forget I told them I thought we could run the table, though we could win the rest of them. Well, we won 6 of the next 7 and finished 9-4, best record since 1963. Don't ever give up; I love those guys!!!!!"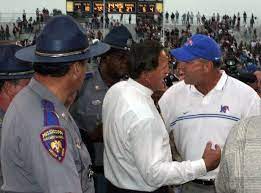 New Orleans was the destination of a culmination of blood, sweat, and tears that started with a decisive win over Houston and ended with a 10-point win over North Texas. Along the way, the attendance grew from the first game of the season, 26,101, to the final game in The Liberty Bowl, 42,884. That was the tangible effect of the hard work, and the players noticed it.
"I hear all the time when I'm in Memphis, people telling me what that season meant to them and about their experiences and going to New Orleans and watching the bowl game and how it made them feel," Hyden said. 'It brought the city together. Memphis is an amazing city, and like everything in life, it's not always sunshine and rainbows, but when the Tigers are hot, things are going well, and the Liberty Bowl is rockin', you get to see the real Memphis."
The great people of Memphis know they all need a chance to prove themselves. Show you the talent they have or the energy and motivation that produces the hard work and gives you every ounce of sweat off their brow and back. Hyden needed just a shot and made the most of his opportunity.
"I will be forever grateful to Coach West for giving me a chance. He probably doesn't know what a positive role he played in my life and how he helped me grow into the man I am today. Coach West is genuine; what you see," said Hyden.
The next time you pass by that BBQ joint that is run down and has seen its best days well behind it, don't dismiss it. Don't be afraid to go in and let the atmosphere and the stories on the walls take you back on a journey because it has a beautiful and colorful story full of life to tell; you have to listen.