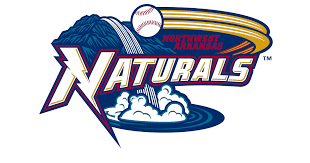 The Northwest Arkansas Naturals winning streak ends at three games with a 3-1 loss to the Wichita Wind Surge Wednesday night.
What Happened?
After going on a three-game winning streak, a war of attrition broke out at Arvest Ball Park, and it wasn't for the faint at heart. Both teams combine to leave 49 runners on base, 32 for Wichita, and 17 for the Naturals. It was a game that excited you and kept letting everyone down. To the credit of the Natural's pitching and limiting the damage, the final score could have been much worse.
In the bottom of the first inning, Luca Tresh hit a sacrifice fly to right fielder Yoyner Fajardo, allowing Peyton Wilson to score the first run of the game for the Naturals. The Wind Surge answered back in the top of the second inning, as Yoyner Fajardo hit a line drive to right fielder Jorge Bonifacio, scoring Pat Winkles to tie the game at 1-1.
The game remained tied until the top of the seventh inning when Anthony Prato hit a single to center field, scoring Brooks Lee and DeShawn Keirsey Jr. to give the Wind Surge a 3-1 lead.
The Naturals attempted to mount a comeback in the bottom of the 9th inning. They loaded the bases with a walk to Jorge Bonifacio, a single by Luca Tresh, and a fielding error by the Wind Surge that allowed Robbie Glendinning to reach base. However, Jeison Guzman grounded into a game-ending double play, sealing the Naturals' fate.
What's Next?
Christian Chamberlain, the Oregon State product, was tagged with his first loss of the season. Despite the loss, the Naturals played look to bounce back on the unofficial Star Wars Day here in the US, with May the 4th being with you. Since NWA turned into a huge water puddle today the Naturals will play a doubleheader Friday evening. The first pitch is 5:00 p.m. and game two will begin 30 minutes after game one concludes. Both games will be a 7-inning affair, and Alec Marsh will take the bump for the Naturals.
Marsh is 1-0 this young season with a 3.22 ERA and 20 Ks. His counterpart for the Wind Surge Thursday is Chad Donata ad he's 0-2 so far with a hefty ERA of 12.54 and 7 K's.