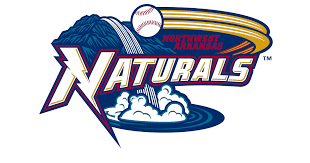 Naturals Win, 6-3, Over Travelers Ties Two Teams At Top Of Division Standings 
Saturday's showdown at Dickey-Stephens Park saw the Northwest Arkansas Naturals seize a triumphant 6-3 victory over the Arkansas Travelers, effectively tying the two teams for first place in the second half of the North Division. The Naturals' impressive performance was underscored by a quality start from Drew Parrish and Tyler Tolbert's trio of hits and pair of stolen bases.
Right from the outset, the Naturals took control, scoring three runs in the first inning. This early lead, their third in a week, was ignited by Jorge Bonifacio's single to right, which brought home the game's first run. Jimmy Govern doubled down with a two-run single to left, providing the Naturals with a comfortable 3-0 lead.
The Travelers were kept on the back foot, unable to score until the fifth inning when Jonatan Clase managed to hit a home run to the left on an 0-2 count, bringing the score to 3-1.
Despite this breakthrough, Parrish's performance on the mound was instrumental in securing the Naturals' win. He pitched for six innings, yielding only one run on four hits. He also managed a pair of walks and five strikeouts. Dante Biasi, despite a slightly rocky performance that saw him allow two runs on three hits and two walks, still managed to contribute two strikeouts in his 0.2 innings on the mound.
Brett de Geus and John McMillon also demonstrated their worth in the bullpen. De Geus earned a hold and struck out one over his 1.1 innings, while McMillon secured his fourth save with the Naturals, allowing just a single hit and striking out one in his inning of work.
The Naturals now look ahead to the series finale on Sunday, where they have the chance to claim sole ownership of first place in the second-half standings. The first pitch is scheduled for 1:35 PM CT, with Andrew Hoffmann (3-5, 5.40) set to take the mound for NWA, aiming to capitalize on the momentum from Saturday's victory.
The result of this game will conclude the first leg of the Naturals' two-week road trip, setting the tone for the remaining contests. If the Naturals continue to display the same level of grit and determination shown in their clash with the Travelers, they will be a team to watch in the coming weeks.