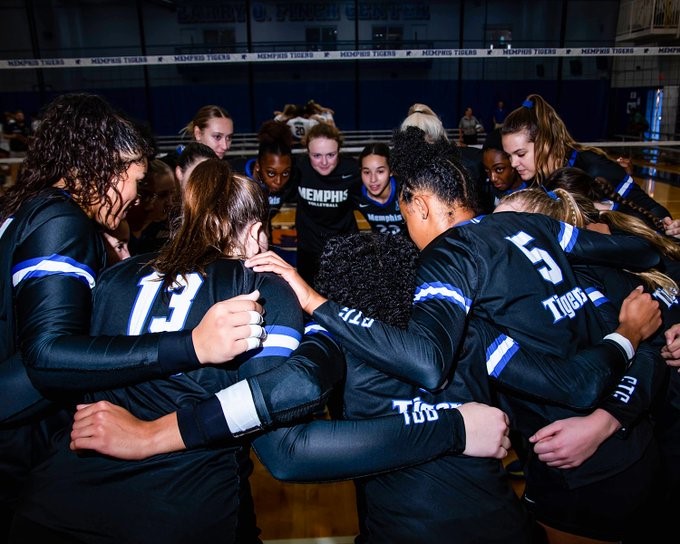 According to the following press release from the Memphis Tigers Communications Department.
The University of Memphis Tigers women's volleyball team has released its 2023 schedule, which includes three matches against Power 5 programs.
"This fall season, we have put together one of the most challenging schedules we've had in years here at Memphis," said head volleyball coach Sean Burdette. "There were several goals in our thought process to putting the schedule together; we wanted to have challenging matches every weekend to prepare the team for the new look of the AAC conference and have 4 non-conference weekends of tournament play available, we wanted a balance of home and away matches. I believe this schedule with opponents from strong volleyball conferences will prepare us for the rigors of our own conference regular season."
The Tigers, who finished the 2022 season with an 18-15 overall record, marking their best finish since 2019. Memphis collected a 3-0 win over TCU and series sweeps of Tulane and Cincinnati. Memphis will play an exciting non-conference slate before starting AAC play with new members in the mix.
Memphis will open up with a three-game home stand in August against Alcorn State, Samford and Miami (OH) in the Tiger Brawl before hitting the road for two straight weeks as they travel to Toledo for the Toledo Invitational and Washington for the Husky Invitational before coming back home for the Beale Street Challenge before beginning conference play. AAC play will begin on Sept. 20 when the Tigers travel to SMU.
2023 Women's Volleyball Schedule
Aug. 25 Alcorn State
Aug. 25 Samford
Aug. 26 Miami (OH)
Sep. 1 vs Virginia Tech
Sep. 1 vs Youngstown State
Sep. 2 at Toledo
Sep. 7 vs UNLV
Sep. 7 at Washington
Sept. 8 vs FIU
Sept. 14 Arizona State
Sept. 15 Southern Miss
Sept. 16 Little Rock
Sept. 20 at SMU*
Sep. 23 USF*
Sep. 24 USF*
Sep. 29 at Charlotte*
Sep. 30 at Charlotte*
Oct. 6 Rice*
Oct. 8 Tulane*
Oct. 13 UAB*
Oct. 14 UAB*
Oct. 19 at ECU*
Oct. 20 at ECU*
Oct. 27 UTSA*
Oct. 29 Wichita State*
Nov. 3 at FAU*
Nov. 4 at FAU*
Nov. 10 at Tulsa*
Nov. 17 Temple*
Nov. 18 Temple*
Nov. 22 UNT*