Memphis Tigers Roar Into NCAA Tournament Second Round, Defeat LSU 2-1 in Front of Record Crowd
In an exhilarating night of women's soccer, the Memphis Tigers clinched a nail-biting 2-1 victory over LSU on Saturday at the Track & Soccer Complex in Memphis. The win propels the Tigers into the NCAA Tournament Second Round, marking their 16th straight victory this season, impressively contributing to their 19-1 record.
The match played in front of a record-breaking audience of 2,073 roaring fans, was a testament to the Tigers' relentless attack and solid defense. The Memphis crowd was treated to an early celebration as the Tigers took the lead within the first three minutes. The first goal came courtesy of Mya Jones, who received a well-coordinated pass from Saorla Miller, originally played down the line by Finley Lavin.
In a stunning follow-up 20 seconds later, Momo Nakao doubled the Tigers' lead with a spectacular high-soaring strike to the upper right corner, sparking a frenzy in the sell-out crowd. Nakao's sixth goal of the season displayed the sheer dominance and quickness of the Memphis offense.
Despite the early onslaught from Memphis, LSU found some footing in the 19th minute when Mollie Baker fired a rocket shot towards the Memphis goal. However, Tigers' goalkeeper Kaylie Bierman made a spectacular save, her first of the night, maintaining the Tigers' 2-0 lead.
Memphis continued to press the attack, with Honoka Hamano narrowly missing the net in the 42nd minute, and LSU finally broke through in the 70th minute with a goal by Ava Galligan. Despite this, the Memphis defense stood firm for the remainder of the match, holding LSU to just two shots.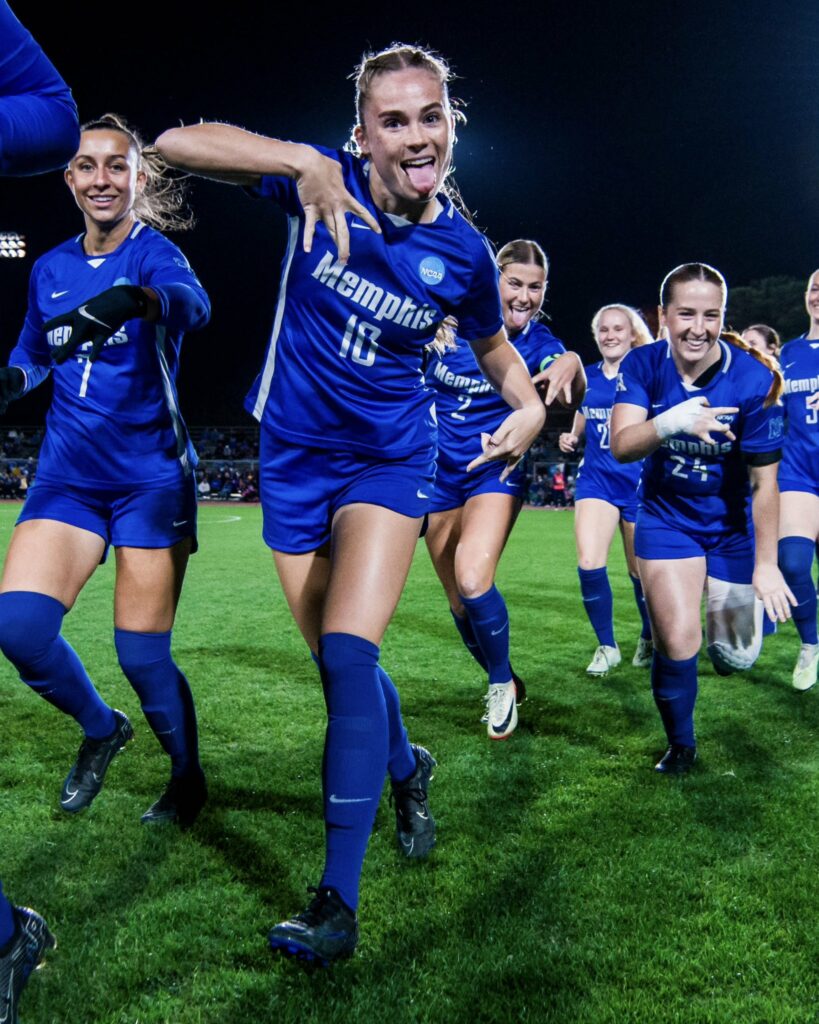 In the match's statistical breakdown, the Tigers' dominance remained evident. With a tally of 13 shots to LSU's two and winning the corner kick battle 7-2, Memphis controlled the game. Jones, with her 11th goal of the season, and Bierman, with her 17th win, continued to make waves in the team's record books. Bierman's win ties her with Elizabeth Moberg for victories in a single season.
With this victory, the Tigers are set to make their third consecutive appearance in the NCAA Tournament Second Round, a testament to their consistent and high-quality performances in recent years. Looking ahead, Memphis is set to face third-seeded Notre Dame in Fayetteville, Ark. The match will start at 3 pm and be broadcast on ESPN+. As the season progresses, the University of Memphis Tigers continue demonstrating their prowess on the soccer field, leaving old and new fans eager for their next game.