Memphis Tiger Women's Soccer Team Gears Up For 2023 Season Opener Against Southern University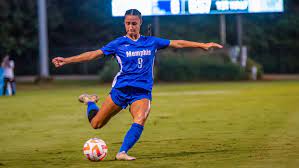 The Memphis Tiger Women's Soccer team is all set to kick off their 2023 campaign this Thursday at 7 pm. The season opener will see them host Southern University at home. Soccer fans will be able to catch all the action live on ESPN+.
The Tigers are entering the new season on a high note, as they are ranked No. 20 in the United Soccer Coaches preseason poll. Their ranking comes on the heels of a historic season in which they claimed their second straight American Athletic Conference (AAC) Championship and advanced to the Round of 16 in the NCAA Tournament.
Last season, the Tigers showcased their defensive prowess by blanking SMU in the AAC Championship match. This was followed by impressive shutouts against the then-10th-ranked Saint Louis and Mississippi State. The Tigers' run in the tournament ended in a nail-biting face-off with the 9th-ranked Arkansas, which came down to penalty kicks in the Sweet 16.
Memphis has a strong roster returning this season. Their top-four goal scorers from the previous season – Mya Jones, Jocelyn Alonzo, Saorla Miller, and Momo Nakao – are all set to don the blue and gray again. The Tigers' backline will be strengthened by the return of veterans Grace Stordy and Haylee Spray entering their senior seasons. Other key players coming back include Claire Wyville, Lilly Huber, Zoe May, and Izzy Monck.
On the other side of the field, Southern University is also coming off a noteworthy 2022 season. The Lady Jaguars ended the season with a 9-9-2 overall record and a 5-3-1 performance in Southwestern Athletic Conference (SWAC). Their performance last season, which set a new record for the most wins in a single season and marked the first time the program finished above .500, has led them to be picked to finish second in SWAC this year.
Thursday's match will be the first meeting between the Tigers and the Lady Jaguars. As both teams look to build on their recent successes, this opener promises a captivating clash right out of the gate. The stage is set for an exciting season of women's college soccer.