The reigning American Athletic Conference champion, Memphis men's basketball, helmed by Coach Penny Hardaway, has announced an impressively loaded non-conference schedule for the 2023-24 regular season. The schedule includes December home games against Clemson, Virginia, and Vanderbilt and three road games against SEC opponents.
Starting with an encounter with Michigan in the Battle 4 Atlantis first round in Nassau, Bahamas, and a potential second-round game against Arkansas or Stanford, the Tigers are set to play at least eight Power Five matchups in the 13-game non-conference slate.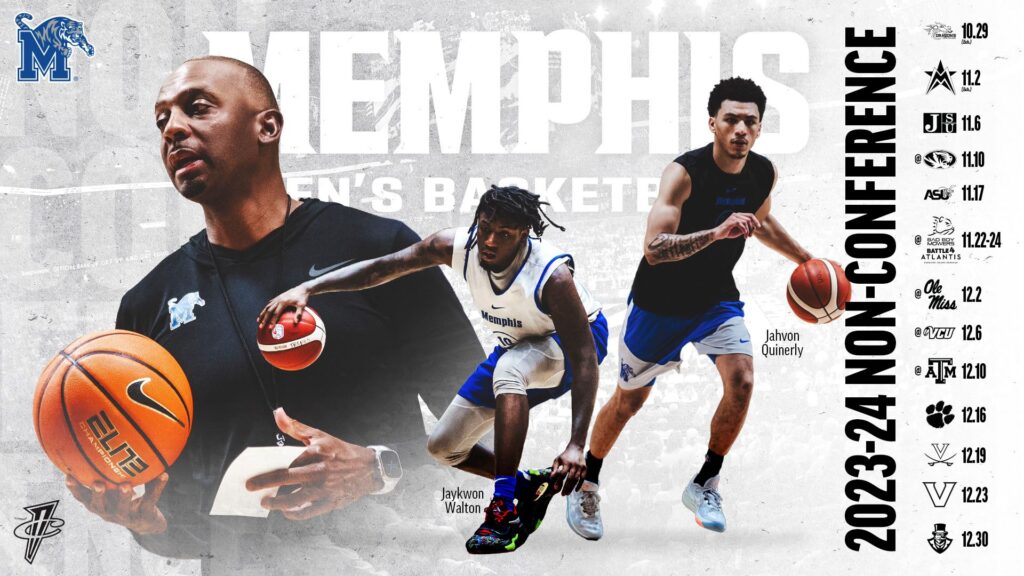 Memphis will warm up with exhibition games against Lane College (Oct. 29) and LeMoyne-Owen (Nov. 2) before initiating the regular season at FedExForum against Jackson State (Nov. 6).
The Tigers will end 2023 on a high note, hosting three consecutive Power Five matchups in December. On Dec. 16, the Tigers will face Clemson for the first time in a thrilling all-Tiger showdown. Virginia and Vanderbilt will visit on Dec. 19 and Dec. 23, respectively.
The non-conference schedule comprises seven games against teams that played in the NCAA Tournament or National Invitation Tournament last season.
The Battle 4 Atlantis, running from Nov. 22-24, will bring together North Carolina, Texas Tech, Villanova, and Northern Iowa, apart from the Memphis Tigers.
The Tigers concluded the 2022-23 season with a commendable 26-9 record and the program's second consecutive NCAA Tournament appearance. Under the leadership of Hardaway, Memphis has seen five consecutive 20-win seasons, the 2023 AAC Tournament championship, and the 2021 National Invitation Tournament championship, along with back-to-back NCAA Tournament appearances.
In his five seasons, Hardaway has mentored three NBA first-round Draft picks and four overall, three AAC Freshmen of the Year, seven all-conference selections, and five all-freshman honorees.
The exact times for all games will be announced at a later date. One thing is for sure; the Tigers are ready to roar again in 2023-24.
2023-2024 Memphis Mens Basketball Non-Conference Schedule 
Oct. 29 – Lane College (Exhibition.)
Nov. 2 – LeMoyne-Owen (Exhibition.)
Nov. 6 – Jackson State
Nov. 10 – at Missouri
Nov. 17 – Alabama State
Nov. 22 – vs. Michigan  (Battle 4 Atlantis; Nassau, Bahamas)  
Nov. 23 – vs. Arkansas or Stanford (Battle 4 Atlantis; Nassau, Bahamas)
Nov. 24 – vs. North Carolina or Texas Tech or Villanova or Northern Iowa (Battle 4 Atlantis; Nassau, Bahamas)
Dec. 2 – at Ole Miss
Dec. 6 – at VCU
Dec. 10 – at Texas A&M
Dec. 16 – Clemson
Dec. 19 – Virginia
Dec. 23 – Vanderbilt
Dec. 30 – Austin Peay