Memphis Dominates USF in Homecoming Game
By Khala Hoyle
MEMPHIS, TN.- Ryan Silverfield and the Tigers have done it again. Memphis took on South Florida for homecoming in what seemingly started as a blowout game but eventually led to a close call.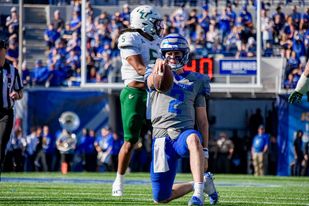 The Tigers won this game 59-50 against the Bulls on Saturday, Nov. 4th, at the Simmons Bank Liberty Stadium. In this match-up, Memphis showcased phenomenal teamwork, drive, and passion, with improved communication from the coaching staff. The home-field advantage is great and has worked in favor of the Tigers. It has posted a record of 45-8 since Ryan Silverfield became head coach (2016). Silverfield is 20-5 at the Simmons Bank Liberty Stadium.
Memphis won the coin toss and elected to receive the opening kickoff. Good things happen to those who hustle, and there's Henigan. Seth Henigan effortlessly completed a walk-in touchdown to put the Tigers on the board with less than 13 minutes remaining in the first quarter. Memphis has scored 20 or more points in 23 consecutive games, the longest active streak in the nation. What happens quickly after Henigan's touchdown is nothing short of amazing. Linebacker Chandler Martin recovers a fumble from USF and makes it back to the third-yard-line. This allowed for a single-play touchdown pass from Henigan to tight end Brendan Doyle, which was the second reception of the season for Doyle. But it didn't stop there,
Doyle then went on to catch his second touchdown on the next offensive drive. Beginning the second quarter, the Tigers led 21-7 and went into the half leading 35-28. Henigan completed four touchdown passes in this game. He ended the game 23-of-40 for 349 yards, four passing, and one rushing touchdown, which added 42 rushing yards on eight carries.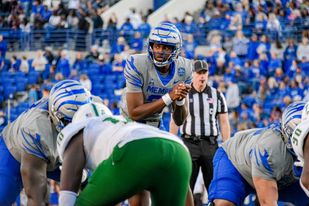 If one could not tell, Memphis is a team full of playmakers. In the third quarter, running back Blake Watson rushed for a 34-yard touchdown, following a PAT from Tanner Gillis, placing Memphis back in the lead 45-42. This marks the 10th touchdown of the season for Watson. Shortly after, Simeon Blair achieves his second pick of the season after he picks off a USF pass in the endzone. Tevin Carter checked into the game and immediately found Roc Taylor, allowing him to tightrope the sideline for an 85-yard touchdown, marking the longest play of the season for the Tigers and the first touchdown pass for Carter's career. The madness still didn't end there. On an eight-yard drive, Brandon Thomas enters the endzone, giving the Tigers their final game score. Memphis takes the win over South Florida 59-50.
Next up, Ryan Silverfield and the Tigers head to Charlotte, NC, to face the Charlotte 49ers. This game will occur at Jerry Richardson Stadium, and kickoff will begin at 2 p.m. The Tigers and 49ers game will be broadcast on ESPN+ and select streaming platforms.