Memphis does it again in the transfer portal! This time, it's a top guard in Jahvon Quinerly.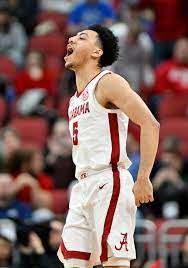 Quinerly, originally from Hackensack, New Jersey, has been a standout player throughout his career. His decision to transfer to the Memphis Tigers is a significant win for the program. 
The 6-foot-1 guard had an illustrious career at Alabama, where he played a crucial role in leading the team to the Sweet 16 in the 2021 NCAA Tournament. Despite playing off the bench, Quinerly proved himself as a dynamic player who could make an impact on both ends of the floor.
Quinerly's decision to enter the transfer portal surprised many, but for Penny Hardaway and the Memphis Tigers, it was an opportunity they couldn't afford to miss. Hardaway, known for his deep connections in the basketball world and his ability to recruit top-tier talent, went into overdrive to secure Quinerly's commitment.
The addition of Quinerly to the Tigers' roster is expected to strengthen their guard play, which was a point of concern last season. His ability to score, and distribute the basketball and his experience in the SEC will be invaluable assets for the team.
Moreover, Quinerly's arrival at Memphis will also provide a boost in leadership. Having experience in high-stakes games and being part of a successful Alabama program, Quinerly will be expected to share his wisdom and experience with the younger players on the team.
As the Memphis Tigers prepare for the upcoming season, they will be looking to ride the momentum of their latest recruitment success. With Quinerly on the roster, they appear well-positioned to improve on their performance from last season and make a deep run in the NCAA tournament.
Hardaway's recruitment strategy seems to be paying off, with high-profile transfers like Quinerly choosing Memphis as their new basketball home. It is clear that the Memphis Tigers are building a team that can compete with the best, and the rest of the NCAA should take note.
Jahvon Quinerly's transfer to Memphis is a testament to the program's growing reputation and its ability to attract top talent. The Tigers will be eagerly anticipating Quinerly's debut on the court, and fans can expect a thrilling season ahead.
The Memphis Tigers basketball program has shown once again that it is a force to be reckoned with in college basketball. With Quinerly now in their ranks, there's no telling just how far they can go.