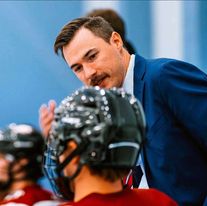 Keller Sims Notches 150th Win as Arkansas Hockey Club Dominates Route 66 Showcase
In the fiercely competitive world of collegiate hockey, milestones are hard to come by, but when they do, they are savored. This week, Keller Sims, head coach of the Arkansas Hockey Club, joined the illustrious ranks of those who have achieved something extraordinary: he secured his 150th win.
The victory came at the Route 66 Showcase during a spectacular display of teamwork and prowess as the Razorbacks decimated Ferris State in a 10-1 thrashing. This win not only marked a significant personal achievement for Sims but also heralded a potential turning point for the Razorbacks this season, as they now boast a respectable 10-5 record.
In the aftermath of the triumph, Sims reflected on what reaching this milestone means to him.
"Reaching this milestone means a lot to me," Sims said. "It is a culmination of a lot of hard work from a lot of people. I wouldn't be able to reach this point without the tremendous support from my wife and family, all of the players that have contributed to each win, each assistant coach and staff member that has contributed on and off the ice, and the coaches and mentors I've had to lean on during my coaching career."
The 150th victory symbolized personal achievement and represented a critical juncture for the Razorbacks this season. Coming off a problematic sweep by a formidable Missouri team, the Razorbacks showed resilience and unity, rebounding spectacularly in the Route 66 Tournament.
"This win means a lot for our season this year for sure," Sims explained. "We were coming off a tough sweep by a solid Missouri team where we made a lot of self-inflicted mistakes and didn't play a very crisp team game. In all three games this weekend, we played a clean team game. We stayed out of the penalty box and committed to the defensive side of the puck, which ultimately got us the trophy through the fewest goals allowed tiebreaker."
The Razorbacks' performance in the tournament revealed the strength of Sims' coaching philosophy, which places equal emphasis on the game's offensive and defensive aspects.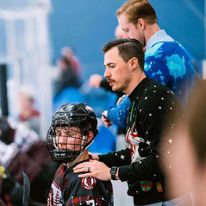 With 150 wins under his belt and a team hitting its stride, Kellar Sims eyes the rest of the season with renewed vigor. It's clear he is not content with simply reaching milestones; instead, he is committed to building a legacy of excellence and grit. As the Razorbacks prepare for the rest of their season, they do so with the knowledge that they are led by one of the finest minds in collegiate hockey. Kellar Sims' 150th win is a testament to his dedication, his strategic insight, and his unwavering belief in his team.
And so, as the echoes of the Route 66 Tournament victory begin to fade, one thing is sure: the hockey world will be watching Sims and his Razorbacks with keen interest. They have proven that they can rise from adversity, and under the guidance of Sims, they are poised to make a meaningful run this season.