Hunter Goodman Is On A Great Pace. When Does He Go Deep? Could Be Soon.
Hunter Goodman's meteoric rise from newcomer to a potential star player for the Rockies has been nothing short of astonishing. From the plate, the field, and on the base paths, Goodman has shown a remarkable knack for the game that belies his relative inexperience at the MLB level.
In his first two games, Goodman notched up an impressive .500 batting average, with four hits and two RBIs. This stellar performance saw him join the esteemed company of Jeff Salazar and Todd Helton, both of whom recorded two hits and an RBI in each of their first two games.
But Goodman isn't just making waves at the plate. In the field, he's proven himself to be a capable and reliable asset. His quick reflexes and sharp instincts were on full display in the top of the second, where he was instrumental in a pick-off play that saw Ronald Acuna Jr called out. His fielding prowess was further highlighted in the third, where he effortlessly fielded a pop-up from Marcell Ozuna, and again in the seventh, when he beat out Orlando Arcia to first.
However, it's Goodman's speed and daring on the base paths that have truly set him apart. Take his first triple in his third MLB start, for instance. After hitting an outside fastball off the right-center field wall, Goodman blazed around the bases, rounding first and second with such speed that it was clear he had every intention of making it to third. And make it to third he did, with a play that sent the crowd into a frenzy.
But Goodman's journey is just beginning, and the question on everyone's lips is: when will he hit his first home run? He's shown he has the power, the timing, and the drive to do it. With a current batting average of.465, It's only a matter of when not if.
Despite a promising start, Goodman isn't without his challenges. His strikeout in the sixth inning and his groundout in the ninth, both at crucial moments in the game, serve as reminders that he still has room to grow. But given his current trajectory, there's no doubt that Goodman has the potential to develop into one of the game's premier players.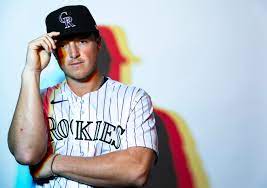 In his few games, Hunter Goodman has displayed a thrilling combination of raw talent, hard work, and a natural understanding of the game. His early achievements serve as a testament to his potential. So, when will the home run come? Well, if his current form is anything to go by, it won't be long. And when it does, it's sure to be the first of many.