The Memphis Redbirds came into this series with long-time rival Nashville trailing only six games. Through the first four games, the Birds have shown they have an offense that can sometimes score almost at will. Memphis won by one run in 2-1 and 3-2 wins to start the series on Tuesday and Wednesday nights. What they would do on Thursday night was almost historic.
On Thursday night, the Redbirds exploded for 19 runs on 23 hits. In their team history, the 23 hits were one away from a franchise record they have hit on three occasions [ July and August of 2012, and May of 2019]. Memphis would explode to a 10-0 lead behind four home runs. Starting pitcher, Jake Woodford, was dominant in his innings pitched, giving up just one hit while striking out five Sounds batters on the night. The win was his first of 2022.
Friday Night, the Birds and fans got free baseball! The Sounds and Redbirds went to 10 innings in a great game. The Redbirds snagged a fast lead with an Ivan Herrera RBI to score Paul Dejong. Redbirds Starting pitcher Tommy Parsons allowed four hits, three walks, and four strikeouts through five innings of work. Trailing by two in the top of the ninth, Memphis would score Moises Gomez and Cory Spangenberg to tie the game. With the game tied at 3, we would head to extra innings. With no Redbirds runs in the top of the 10th, the Sounds did quick work and ended it on a walk-off single in the bottom of the inning to win.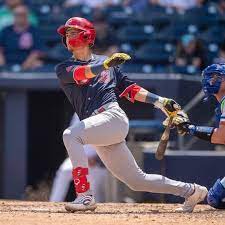 This brings us to tonight's game five of the series from Nashville. Memphis starting pitcher Aaron Brooks was phenomenal from the mound. Brooks would allow six hits, six strikeouts, no walks, and no earned runs in 27 batters in 7 innings. His seven innings was a season-high for Redbird's pitchers. Brooks would go on to throw 65 strikes out of his 94 pitches thrown. Brooks has not allowed a run since his July 4th start, three starts ago. Memphis bats would come alive again with ten runs on 18 hits which were just a short two nights shy of scoring 19 on 23 hits. Many Redbirds had great nights from the plate tonight. Ben Deluzio went 3-5 with two runs scored, Cory Spangenberg went 2-5, a double, triple, two runs scored, and an RBI and Evan Mendoza went 4-5 with two doubles while scoring three runs.
Memphis has now outscored the Sounds 37-10 in these games. With the pace this team has been scoring, there is no telling how many they may achieve tomorrow. Memphis has now won a minor league-leading 29 road games this season. The final match will start at 1:05 with LHP Matt Liberatore on the mound for Memphis and RHP Caleb Boushey for the Sounds. Memphis trails Nashville in the International League Standings by 3.5 games. After tomorrow's game, the teams will take a break for the All-Star Break. Memphis next series will be a three-game home series with the Stripers from Gwinnett.