Jason Pattyson // Sports Reporter // @thejpattyson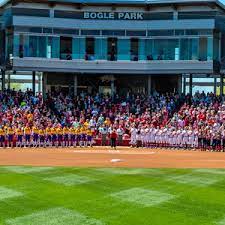 Arkansas took two of three games from #10 Florida this weekend for its first home series win in program history. 
How did It happen?
Friday
Junior Hannah Gammill scored her second career multi-home-run game in a 6-2 victory Friday night. Gammill put the Hogs on the scoreboard in the fourth inning, trailing 1-0, with a line drive just inside the foul pole in left field to tie it up at one a piece. She sent another liner to the left field again, this time hitting the foul pole, and the ball landed in fair territory for her second of the game. 
"Yea, it feels really good. I think I still have a lot of work to do and feels good to especially get two home runs when I've only had one, so it's nice." Gammill said after the game.
Redshirt Senior Chenise Delce took the circle for the Razorbacks, and she followed up her epic performance in Tuscaloosa with a gem against the top 10 Gators. She gave up two runs, one unearned run, off of five hits, walked six batters, and struck out seven over seven innings.
" Just focusing on spin, knowing my teammates got my back and knowing that the offense was going to have my back too as well, so you know I'm not trying not to put too much pressure on anything." Delce, on the win.
The hits were contagious as six different Hogs recorded a hit, and all nine batters reached base in the victory. The Hogs strung together six runs over the game's last three innings to finish off the Gators.
"Happy that we got the win to start off the series. I thought our team played really well and got better as the game went on, which I really liked," head coach Courtney Diefel said on the win Friday night. "I thought we responded when we gave them away like I felt like we gave them their runs, and I felt like we responded well, so I just was really pleased with the overall effort tonight." 
Saturday
Florida bounced back dramatically with an 11-4 victory Saturday night, scoring six runs in the sixth inning to seal the deal.
Arkansas and Florida both got on the scoreboard in the first inning. Florida's Charla Echols sent a blast to the berm with a runner on to gain a 2-0 lead. The Hogs bounced right back as transfer junior Cylie Halvorson belted a 2 RBI single to left field to knot the game at 2-2. Redshirt junior Rylin Hedgecock drew a bases-loaded walk in the second inning to give Arkansas a 3-2, but it didn't last long. Sarah Longley took the lead back for the Gators with a three-run home run to lead 5-2.
Sophomore Raigan Kramer trimmed the lead with an RBI single to center field, 5-4. Florida exploded for six unearned runs in the sixth inning to take game two 11-4.
Sunday
It was Sunday Funday for the Hogs as they trounced the Gators in their rubber match with a 14-1 run-rule victory in five innings.
Hedgecock was a one-woman wrecking crew on the Gator pitching. She had the second multi-home run game of the weekend for the Hogs with two and added a double to knock in a season-high seven RBIs.
Freshman Reagan Johnson and Kramer drove in two RBIs and had two hits each. Transfer graduate Kristina Foreman capped the Razorback scoring with her fifth home run in the fourth inning.
Delce continued her dominance against the best offenses in the league as she tallied her 9th victory on the season. This time she was much more efficient, with seven strikeouts, two hits, and a run scored over five innings.
What's Next?
The Razorbacks hit the road to Starkville, Miss., to take on the Bulldogs next weekend. Game one is set for Friday, and the first pitch is scheduled for 4 p. m. and will m on SEC Network plus.