Jason Pattyson // Sports Reporter // @thejpattyson
 A record-setting Friday night propelled the Arkansas Razorbacks Gymnastics team over LSu to break an 11-year drought.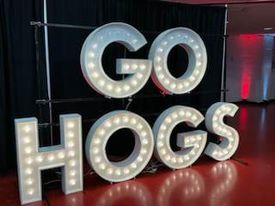 It all came together for the Gymbacks before a sellout crowd of 7,147 fans, the most to ever attend a meet in Barnhill Arena, as they defeated the Tigers 197.425 – 197.250.  That score now tops in program history, is the second time Razorback gymnastics coach Jordyn Weiber has guided the team to a program scoring record in her tenure at Arkansas. Freshman Lauren Williams and graduate Norah Flatley gave the team solid scores all night. Williams paced the Hogs with a 9.925 on Floor and vault while Flatley led them in Beam and Bars. 
The scene was high energy all night, and the athletes responded with their best season showing. "I'm just so happy the fans showed up tonight, and the energy and the enthusiasm was electric," coach Weiber said. "You can tell our athletes really feed off of it, and you know, I think it just goes to show these athletes are fun to watch. They're exciting, and people want to come and show up for them and cheer them on. We've got Bud Walton next Friday night. I hope everybody will be coming back, I hope, but I can't stress enough just how much of a difference the fans make for student-athletes. They want to perform well in front of the razorback community and the fan base, so just a huge thank you to everyone that came out and made this a really historic and special night for our program."
Arkansas started their home olympic rotation on vault. LSU had been firm on vault this season, and the Hogs scored their second-highest vault score with 49.300. Williams scored a 9.925, her highest of the season, as she stuck the landing of her Yurchenko one-and-a-half with the highest score for Arkansas. Haleigh Bryant and KJ Johnson of LSU shared the vault title with a 9.950. Arkansas and LSU tied on the Vault at 49.300 a piece. 
The Hogs turned in a stout performance Friday night. The Hogs have had issues with releases in the first two meets but have turned a corner by sticking to the skilled moves. Freshman Reece Drotar and sophomore Maddie Jones stuck their landings and earned 9.850. Flatly turned in her best score of the season with a 9.925 and the best score of the night as she took home the Bars title.  Arkansas took the lead after winning the Bars event 49.350 – 49.300. 
As LSU started ramping up the heat on their floor rotation, the Razorbacks had a few near falls on the beam. The Bengal Tigers started to pull ahead on the scoreboard, but the Hogs persevered, with freshman Callie Swaney and Flatley scoring 9.900 to lead the Hogs in this event. Aleah Finnegan had the top performance with a 9.925 for Bengal Tigers, but the Razorbacks outscored them 49.250 – 49.150. 
The floor event was a dance party, as the event emcee referenced it as. The Hogs tumbled, flipped their way to a solid performance, and scored a season-high 49.575. Jones and graduate Bailey Lovett started off the Hogs fast with a pair of 9.90s. Sophomore Leah Smith brought the crowd to their feet with her high-flying passes, and she ended up scoring a personal best 9.950, which was enough to take the floor title. After her routine, the crowd began chanting "10," It took its toll on an LSU gymnast on the beam as she had a couple of shaky jumps, as the crowd went wild. Williams turned in another solid floor performance with a 9.90, along with redshirt freshman Frankie Price. 
Price nailed a double pike on her final pass that got the crowd and coach Weiber fired up, and they could tell victory was within reach with the reaction. The Hogs outscored the Bengal Tigers by over two-tenths of a point, which was the difference for the razorback win. "It's always a great thing for an anchor to be able just to go out and not have to have that pressure," Weiber said on the final floor routine. "I don't think that she knew that, but she's been struggling with her last pass a little bit. She's been doing great floor routines  in the last pass has been something that she's really wanted to nail down, and I saw it was there tonight, and I'm really excited for her to continue building her confidence and her landing it's hard to come back from an ACL surgery like she is and compete a full difficult floor routine, but she's doing it so well, and she's fighting for every single half tenth every week."
Next up, the Gymbacks take their show to Bud Walton Arena as they face the Florida Gators this Friday, February 3rd, at 6:45 on SEC Network plus.