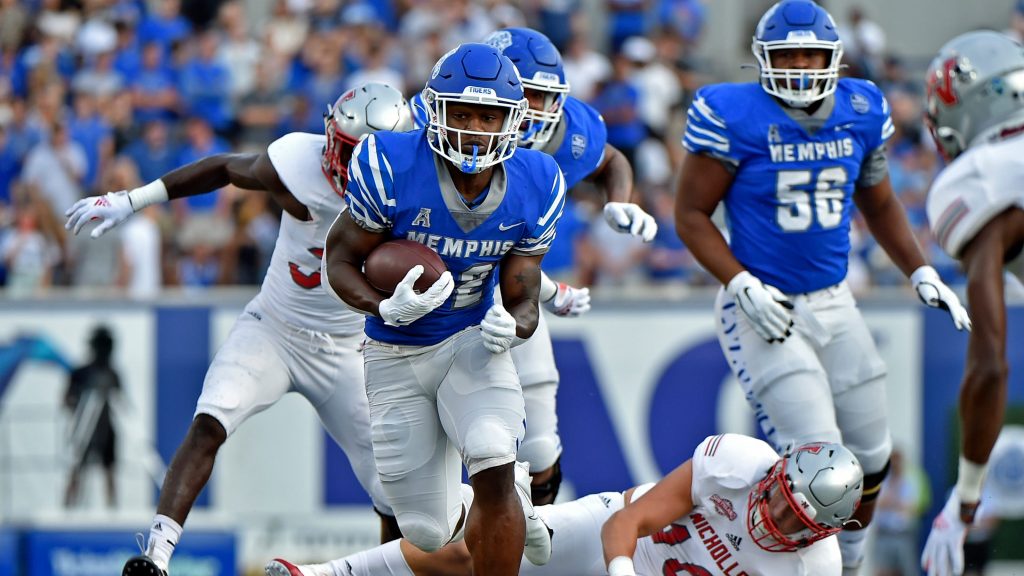 Final Score: Memphis 42 Nicholls State 17
Memphis, TN – Liberty Bowl Memorial Stadium
The Memphis Tigers took the field to start the season against Nicholls State Saturday night. It was a night of fresh starts for all. Tiger nation was out of full force on Tiger Lane and all-around Liberty Bowl Memorial Stadium. Tigers had a new QB from the state of Arizona coming in to keep the momentum going. Or so we thought. More on that in a minute.
Pregame we got the answer to the QB question. We learned that Arizona transfer Grant Gunnell was out of the game and in shorts on the sideline. Freshman Seth Henigan was thrust into the starting position. Or was he the man the whole time? Time will tell what the answer is. Seth stepped in and played poised and ready for the moment going 19 of 32 for 265 yards and a TD pass. He also ran for 9 yards. The future of the QB position looks to be in great hands.
The big question on offense coming into the game was where has the running game been? Boy did we get the answer? Freshman Brandon Thomas showed the Liberty Bowl that he is the man for the job. He rumbled and stumbled for 147 yards on 16 carries. Rodriguez Clark, Asa Martin, and Marquavious Weaver proved that this rushing attack will be a force this season. The Tigers ran for 3 TDs total in the game. The WRs for Memphis has another great night led by Sophomore Javon Ivory with 6 catches for 106 yards. Calvin Austin had the only receiving Td of the night during a 6 catch 47-yard performance.
Special Teams for the Tigers came through again as Transfer Joe Doyle went 5/5 on Field Goals his longest being 38 yards.
Defensive Coordinator Mike Macintyre was looking forward to getting back on the field. The Tiger defense proved to be too much for the Colonels holding them to just 100 yards rushing on the night and 299 total yards. Memphis also won the turnover game as they had one interception on the night by Senior Sylvanta Oliver in the 4th Quarter.
Tigers will now get ready for a road trip to Jonesboro to take on an Arkansas State team that struggled early against Central Arkansas but came away with the victory 40-21.