Austin Hannigan Commits to Memphis Baseball: A Talented Prospect Ready to Shine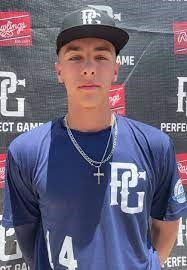 In the world of sports, talent, and dedication are essential ingredients for success. Austin Hannigan, a standout athlete and 2024 graduate from Lewisburg High School in Olive Branch, MS, recently made headlines with his commitment to the Memphis Baseball program. Standing at 5'11" and weighing 180 pounds, Hannigan possesses a unique set of skills that make him a versatile player on the field. In this article, we will delve deeper into Hannigan's performance in high school, his motivations for choosing Memphis, his thoughts on Coach Matt Riser, and what the passionate Memphis fanbase can expect from this young baseball prodigy.
Dominance on the Field
Hannigan's high school statistics paint a picture of a player who excels in every aspect of the game. At the plate, he played a total of 63 games, amassing an impressive 39 runs, 62 hits, and 42 RBIs. His ability to hit for power and consistency is evident with 13 doubles, 3 triples, and 2 home runs, resulting in a remarkable batting average of .405. Hannigan's slugging percentage of .783 showcases his ability to drive the ball and contribute to his team's offensive success.
On the bases, Hannigan's speed and agility are evident, as he successfully stole 25 bases out of 27 attempts. His ability to read pitchers and make quick, intelligent decisions on the basepaths adds another dimension to his game.
Defensively, Hannigan's skills are equally impressive. With a .910 fielding percentage, he proved to be a reliable presence in the field, making 134 total chances, 52 putouts, 69 assists, and participating in 11 double plays. Although he committed 12 errors, it's worth noting that defensive skills are continually honed and developed as players progress to higher levels of competition.
Why Choose Memphis
When asked about the factors influencing his decision to commit to Memphis, Hannigan highlighted several key aspects. Firstly, being close to home played a significant role in his choice. The opportunity to pursue his passion for baseball while remaining within reach of his support system was a crucial factor in his decision-making process.
"Being close to home was a contributing factor. The new coaching staff was another one. Lastly wanting to contribute in bringing championship baseball back to Memphis."
Thoughts on New Coach
Secondly, Hannigan expressed his excitement about the new coaching staff at Memphis, led by head coach Matt Riser. The relationship he has developed with Coach Riser has had a profound influence on his decision. Hannigan admires Riser's commitment to competition and winning, which aligns perfectly with his own goals of playing baseball at the next level.
"My relationship with coach riser had a lot of influence on me continuing my academic and athletic career at Memphis. His desire to compete and win closely aligns with what I want playing baseball at the next level."
Pledging to Give His All
Memphis fans can rest assured that they are gaining a dedicated and hardworking player in Austin Hannigan. In a recent interview, he emphasized his relentless work ethic and his commitment to leaving everything on the field. A player who refuses to be outworked, Hannigan's passion for the game shines through in his words and actions.
"You're getting a guy that won't be outworked and will give my all every time I step in between the lines. Really excited to be a Memphis Tiger!!!!"
As Austin Hannigan embarks on his journey with the Memphis Baseball program, the possibilities are endless. With his exceptional skills, versatility, and unwavering determination, Hannigan has the potential to make a significant impact on the team's success. Memphis fans can look forward to witnessing his growth and development as he continues to refine his abilities at the collegiate level. As he steps between the lines, Hannigan's commitment to excellence and his burning desire to win will fit well with the culture being built at Memphis.