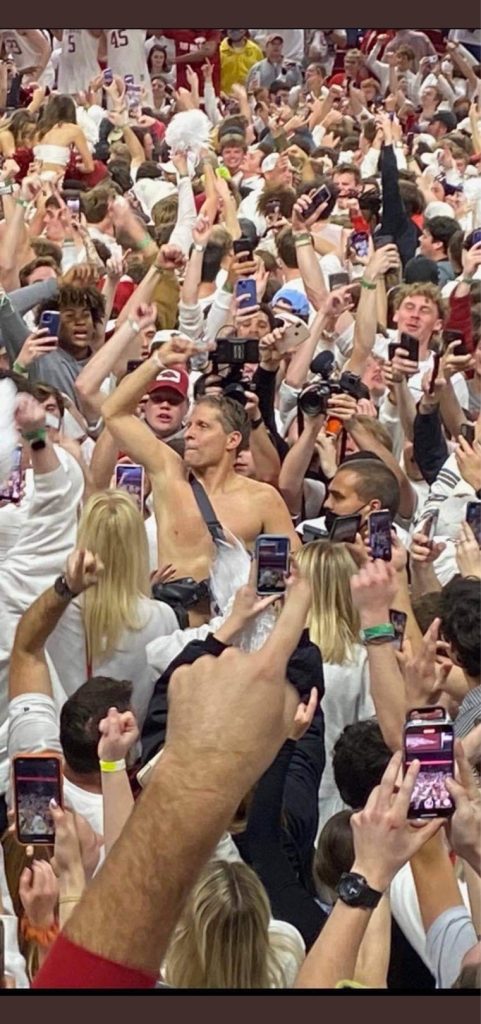 The entire state of Arkansas was ready for their team to get a shot at the number team in the country and there was a buzz across the entire state leading up to game day. One thing is certain when it comes to Arkansas fans. They love their team, and they will do whatever it takes to help them win. Bud Walton Arena housed an over-capacity crowd on Tuesday night pumped and ready to be a part of history. The entire crowd was encouraged to wear white and be as loud as possible during the game and that's exactly what they did. Bud Walton Arena was on fire from the opening tip, and it was evident the team fed off of the crowd early in the game. Both teams started pretty slow from the field, but Arkansas was finally able to get some separation in the first half building a 27-15 lead at one point which was their largest of the game.
As the number one team in the country usually does, the Auburn Tigers fought their way back into the game and only trailed by three at halftime. The second half would be a battle of epic proportions. The Razorbacks and Tigers would not give the other team any separation as just about every missed and made shot was well contested. With just over two minutes to go in regulation, Arkansas trailed 59-64 and it was starting to look like Arkansas wasn't going to have enough left in the tank to take down the Tigers. However, the Razorbacks continued to do what they had done all game which was play solid defense and drive to the basket. With Auburn leading 64-62 with the basketball, JD Notae stole the ball from behind with under a minute left and earned a trip to the free-throw line. Notae would sink two extremely clutch free throws and the game was tied 64-64 with just under a minute left.
Arkansas would tie the game once more, this time thanks to a reverse layup by Jaylin Williams with 23 seconds left. Auburn got the final shot of regulation but it was a difficult NBA range three-point shot that was off the mark. Arkansas seemed to be in better shape to win the game after forcing it into overtime with all of the momentum and the crowd firmly behind them as they had been all night. Arkansas led 80-76 with 12 seconds remaining and all they needed was a stop. They got it. The game would end on a fast break off the backboard dunk by Davonte Davis to himself as the lights went out in Bud Walton with fans filing onto the court in droves. Arkansas had just enough left to send the Tigers home with their first conference loss of the season and snap their 19 games winning steak. JD Notae, the SEC's second-leading scored had a phenomenal night carrying his Razorbacks with 28 points. Jabari Smith, likely a high draft pick and one and done for Auburn finished with 20 points as he kept his team in the game with clutch shots at the end of the game. Ultimately it was not enough though and Arkansas was able to beat a number one ranked team in Bud Walton Arena for the first time since it was established in 1993. Arkansas (19-5) (8-3) will head to Tuscaloosa to play Alabama on Saturday at 11:00 AM CT on SEC Network in what will be another tough challenge for the Razorbacks. Auburn (22-2) (10-1) will host Texas A&M on Saturday at 11:00 AM CT on ESPN.