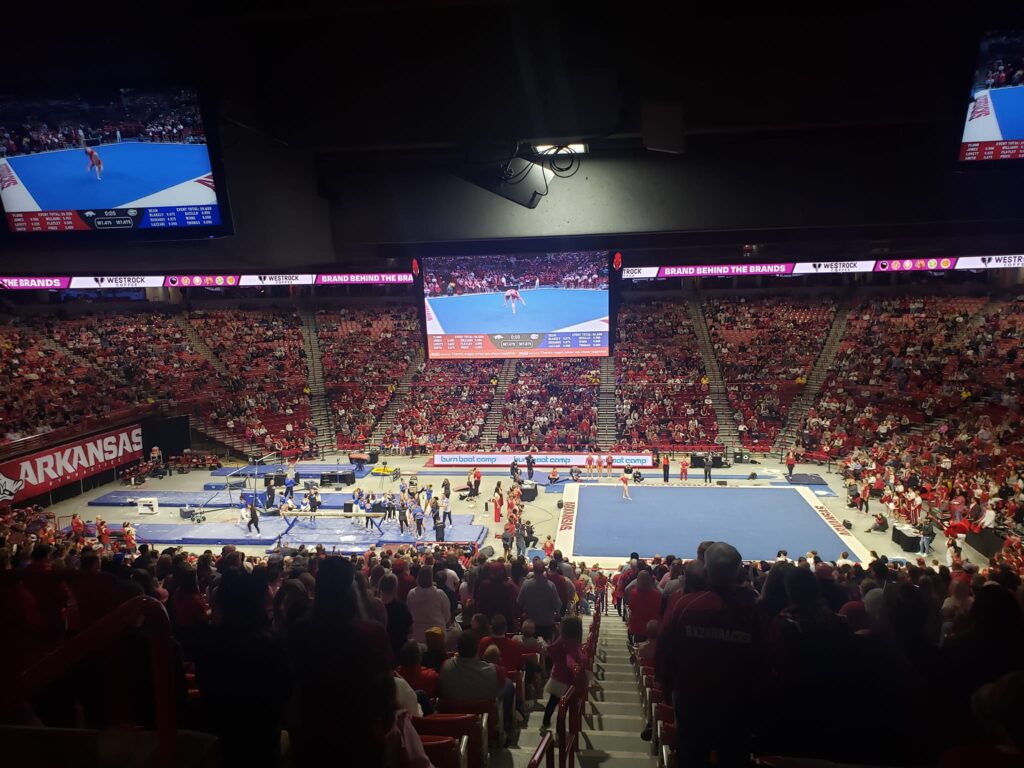 Jason Pattyson // Sports Reporter // @thejpattyson
The Razorback Gymnastics team fell short to second-ranked Florida 197.875-197.400 Friday night in front of 11,031 spectators, a record crowd.
Bud Walton Arena was home to the largest crowd to attend a gymnastics meet as the 18th-ranked Razorbacks posted a score of 197.400 or better in consecutive weeks for the first time in program history.
Vault
The Razorbacks started on vault with redshirt freshman Cami Weaver scoring a 9.875 when she stuck the landing on her full Yurchenko. Redshirt freshman Frankie Price later scored a 9.90, which was the highest vault score of her career. The Razorbacks posted a 49.275 for the rotation.
Bars
On Bars, Arkansas has steadily improved in every meet this season, and they dazzled Friday night again. Freshman Cally Swaney has been a solid force on Bars in the first spot for the Hogs, and she scored a 9.875 to get them off to a fast start. Junior Jensen Scalzo and freshman Reese Drotar nailed their complex releases in their routines and scored a team-high 9.90. Florida's Leanne Wong and Trinity Thomas posted perfect 10.0 scores in their Bars portion to take a commanding lead to the second half of the meet 99.025-98.575.
Beam
Swaney joined Kalyxta Gamiao and Kiara Gianfagna in scoring 9.90s for Arkansas on Beam. Redshirt freshman Cami Weaver and graduate Kennedy Hambrick turned in 9.85s to round out the Razorback scoring in the event. Wong turned in her second perfect score on the night, this time on the beam, as she continued her dominant performance. The Hogs were able to close the scoring gap with Florida 148.275-147.925.
Floor
The Hogs turned in another solid floor rotation. SEC freshman of the week Lauren Williams tumbled her way to her best score as a Razorback, 9.95, and was awarded the best score on Floor. Sophomores Maddie Jones and Leah Smith scored 9.90s as the Hogs made a fierce comeback. The Gators left the door open for the Hogs, posting their lowest score of the year on Floor with a 49.250 as the Hogs turned in a 49.475. The rally fell short as Florida bested Arkansas 197.875-197.400.
What is Next?
The Razorbacks will compete next Saturday, February 11th, at 7:15 in Fort Worth, Texas, to participate in the Metroplex Challenge. This meet will feature Arkansas and the 2022 National Champions Oklahoma, Stanford, and Alabama.