Jason Pattyson // Sports Reporter // @thejpattyson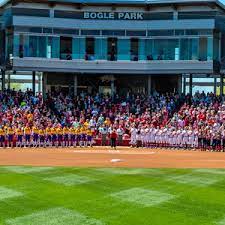 Arkansas Razorbacks drop first SEC series in almost two years to Texas A&M 2-1.
The Bogle bombers got the party started early Friday evening for a quick 8-0 five-inning victory.
Redshirt junior Rylin Hedgecock and junior transfer Cylie Halvorson hit back-to-back home runs in the first inning for a fast Razorback start. The bats continued when graduate transfer Kristina Foreman uncorked on an Aggie pitch and sent it over the center field wall for her first home run in Bogle Park to lead 5-0 after one frame.
"It was really exciting obviously to go three up and three down on the defensive side and come out and just be really aggressive," said head coach Courtney Diefel about the first-inning offense. "Obviously, just making a big statement in the first inning was just really huge."
The Aggie offense could not put together a sustained offensive effort through dominant pitching from redshirt junior Chenise Delce. She went the distance for Arkansas, pitching five inning shutout, and allowed just three hits for her sixth complete game of the season.
Arkansas loaded the bases in the bottom of the third inning, looking to add to their lead when freshman catcher Lauren Camenzind knocked a two-run double to extend the Hog lead to 7-0.
Defensive efficiency was the overall narrative for both teams on Saturday. The Razorbacks could muster up only three hits over seven innings off of Aggie pitchers Shaylee Ackerman and Emily Leavitt.
"I didn't think we were the aggressor," said head coach Courtney Diefel. "So any game, we aren't the aggressor. I'm really disappointed."
Freshman Hannah Camenzind triggered a 1-2-3 double play on her first pitch after entering the game to shut down a bases-loaded threat in the top of the sixth inning.
"It was huge," Diefel said of the double play. "Obviously, with the first pitch when your backs against the wall, it's the toughest position to be in, and she's a competitor, and she's a gamer, and she executed a great pitch and then fielded her position really nicely."
The Aggie offense found a little success from freshman pitcher Robyn Herron, who is second in team wins on the season. She gave up two runs on four hits, along with five strikeouts over 3 ⅔ innings. Texas A&M would score a home run by Riley Valentine in the fourth inning and a double by Morgan Smith in the fifth to cap the scoring.
Sunday was cool, but the Aggie bats were hot. Texas A&M wrangled the Razorbacks 9-1 in the five-inning game and series win. Arkansas could put anything together in the batter's box and pieced together one run on seven hits in the series loss.
"Maybe one of the worst games I have watched on any level, especially for such a what was supposed to be a high-level softball game," said head coach Courtney Diefel on her thoughts of the game today. "I thought they were the aggressor. I thought they took charge early. I think we competed; I thought they out-adjusted us. I thought they out-competed us, and they out-willed it."
Delce got the nod in the circle for Arkansas, hoping to match her performance from Friday night. She was efficient in the first inning, only making one mistake when Texas A&M's Trinity Cannon sent a pitch over the center field wall for a 1-0 lead.
Texas A&M's Morgan Smith would send another Delce offering over the right field wall for a 2-0 lead. Arkansas would plate a run in the second inning off of a Lauren Camenzind double to score sophomore Kasie Hoffman, but the Hogs trailed 2-1.
Delce was roughed up for six runs on seven hits over 2 ⅔ innings with just one strikeout.
The top of the third inning would be an onslaught of Aggie offense as they scored five runs. They strung together eight straight players to reach base, capped by a two-run double by Smith.
Texas A&M would push two more runs across in the fifth inning and run-rule the Hogs at home for a 9-2 game and series victory. Delce was changed with her third loss of the season.
This week Arkansas travels to Wichita State shockers Tuesday, Mar.15 at 6 p.m. in Wichita, Kan., and the game will broadcast on ESPN+.