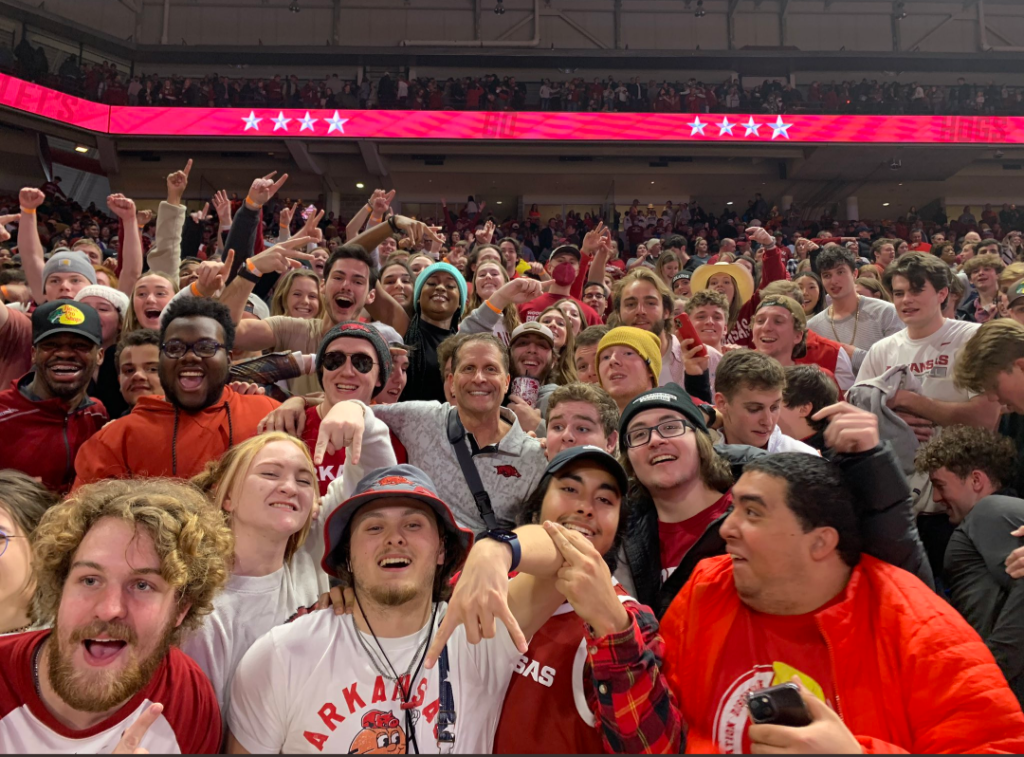 Coming off of a 99-73 blowout win against Georgia on Wednesday, the Arkansas Razorbacks Men's Basketball team continued to play winning basketball on Saturday in Bud Walton Arena but it was not an easy task. Miss St. entered the contest searching for a quality road win to boost their NCAA tournament chances. Arkansas, despite their 7 game winning streak entered the game still unranked and feeling like it was needing another win to help solidify their NCAA tournament spot before they head into a tough back end of their schedule. The defense stole the show in the first half with both teams tied at 25 at halftime. The 2nd half was mostly another great defensive battle but the scoring picked up some. The game was neck and neck the entire way through but Arkansas held a small lead the majority of the game. With both teams matching each other almost shot for shot and stop for stop, Arkansas had a 53-52 lead with just 2:08 remaining. At that point, it felt like the Bulldogs had some momentum and were about to steal one on the road. However, sensing the importance of the possession, Arkansas Forward Jaylin Williams knocked down a pretty well-contested three-pointer to give the Razorbacks a four-point lead that proved to be the dagger. However with 27.8 seconds remaining and Arkansas still up by four, transfer Guard Chris Lykes took an unnecessary three-point shot with a lot of time still left on the shot clock. Luckily, the shot went in and sent Bud Walton Arena into a frenzy. Arkansas would go on to win the game 63-55. Iverson Molinar, a Panama City, Panama native, and Mississippi State's best player scored 19 tough points to lead all scorers. Arkansas Guard JD Notae and the SEC's second-leading scorer led his team with 14 well-earned points of his own. With the win, Arkansas improved their record to 18-5 overall and 7-3 in the SEC while Mississippi State fell to 14-8 and 5-4 in the SEC. Arkansas will host the nation's number one team the Auburn Tigers on Tuesday who is on a 19 game winning streak. The Tigers survived a scare against Georgia 74-72 on Saturday but did so without one of their best players Zep Jasper due to a non-Covid-19 illness. After Auburn's game on Saturday Head Coach, Bruce Pearl had this to say about Jasper: "We missed Zep Jasper, our best perimeter defender, in a big way. It didn't show as much until the second half. We missed the best defensive guard in the league. Period."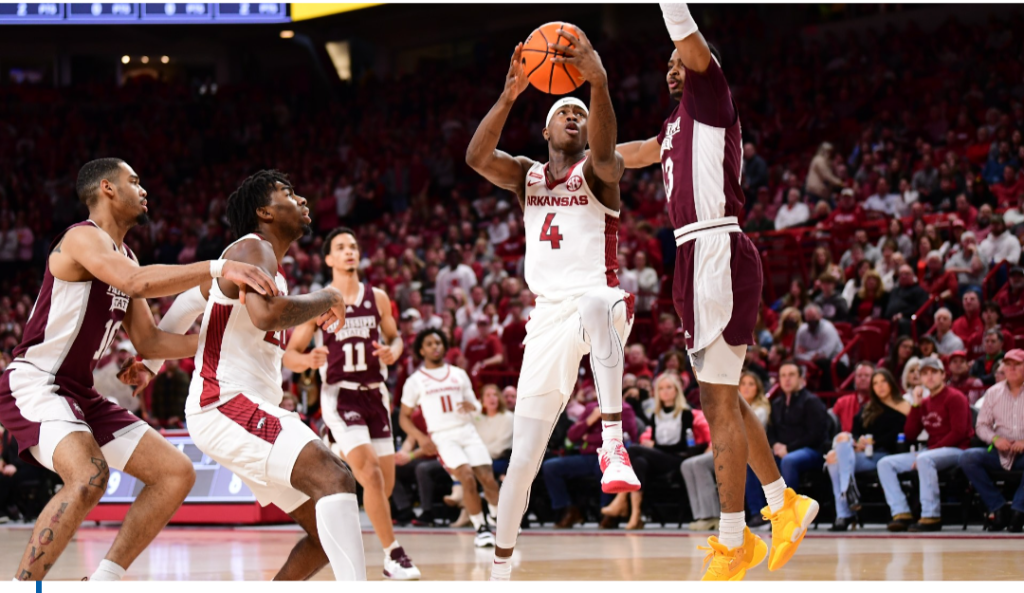 After Arkansas' gutsy win on Saturday Head Coach Eric Musselman had this to say about his team's turnaround and how Chris Lykes who had 10 huge points on Saturday has found his role with the team: "I think the whole team understood that enough was enough and if we tell you to do X,Y,Z you do it that way or you will not play." Musselman on Lykes: "Not only did Chris start executing what we wanted him to do but then he started buying in to becoming a vocal leader. He's making our practices better, he's shooting more on his own, he's staying after practice more than he was. I think he realized like hey this is what the expectations are and he has to change to do what we want."
On Tuesday, one streak will end for one of the two hottest teams in the SEC and the country. The #1 Auburn Tigers (22-1) (10-0) will be the first number one ranked team Arkansas (18-5) (7-3) has hosted since UNLV in 1991. The game will be on ESPN2 at 6:00 pm.