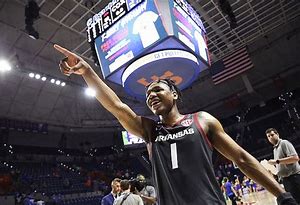 27 long years. The No.18 Arkansas Razorback's finally defeated the Florida Gators on Tuesday night in Gainesville for the first time since 1995, the year after Arkansas won the National Championship against the Duke Blue Devils. In the 1995 season, Arkansas would go back to the National Championship and come up short against the UCLA Bruins.
Eric Musselman. What an outstanding job he has done yet again with his team. Arkansas is arguably the hottest team in the country right now having won 12 of their last 13 games. On Tuesday night, Arkansas picked up another impressive win over a very talented Florida team who has one of the best players in the country but not the most likeable guy at least from the perspective of many Arkansas fans. It could be in large part because of how well he played despite the loss, scoring 29 points. Arkansas would go on an impressive run outscoring the Gators 28-14 in the final 7 minutes and 57 seconds of the game. The Gators led 60-54 before Arkansas went on their run. With just over a minute to go and Arkansas leading 72-71, the SEC's leading scorer JD Notae hit a dagger step back 3 point shot to extend the lead to four. Florida would never get any closer than that for the remainder of the game. Notae would finish with 22 points for the game, exactly what was needed for Arkansas to pick up the huge road win. Davonte Davis was a huge contributor off of the bench, scoring 19 points to help Arkansas secure the win.
With the win, Arkansas improved to 22-6 overall and 11-4 in the SEC. Arkansas will host No. 6 Kentucky on Saturday who is coming off of a 71-66 win against LSU on Wednesday. The Wildcats are 23-5 overall and 12-3 in the SEC. This matchup will feature two of the top teams in the SEC and will be an opportunity for both teams to improve their SEC tournament and NCAA tournament seeding. You can expect another loud and sold out crowd on Saturday when Coach John Calipari and his Kentucky Wildcats come to Fayetteville. Arkansas will have to continue playing tough defense and solid offense if they want to pull of the upset. It also helps that the game will be played inside Bud Walton Arena, one of if not the most intimidating places for an opposing team to play. The game will tip off at 1pm on Saturday. The game will be televised on CBS.