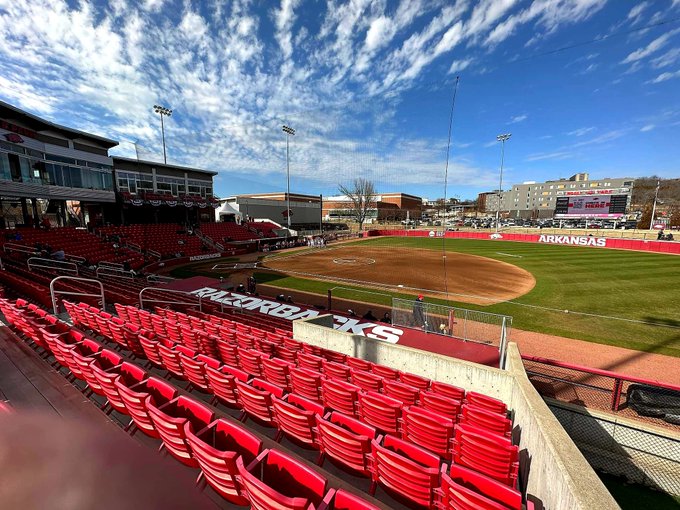 Arkansas avoids being swept at home against Georgia over the weekend.
Jason Pattyson // Sports Reporter // @thejpattyson
Arkansas lost two hard-fought games before rallying to a dramatic come-from-behind victory in front of the second-most attended game in Bogle Park history in game three.
Friday

Junior first baseman Cylie Halvorson got the Razorbacks on the board first with a two-run home run over the center field wall; Raigan Kramer scored on the play after she had reached base with a walk earlier in the inning, 2-0 Hogs.
Georgia cracked the scoreboard after stringing together a couple of hits to push Marissa Miller and pull the Bulldogs within a run, 2-1.
Sophomore Kacie Hoffman continued her hot hitting from last weekend, laced a double to right-center field, and drove in redshirt junior Rylin Hedgecock to extend the Arkansas lead, 3-1.

Redshirt senior Chenise Delce was pitching a solid game through the sixth inning. She had battled Georgia to their last strike when Bulldog right fielder Jayda Kearney hit a long fly to right field that sailed over the wall. That scored the runners on first and second to give them a 4-3 lead.

"We were all sick to our stomachs when you are one strike away from a win, and the game changed with one swing. You know, we all just felt like we got punched in the gut," said head coach Courtney Deifel about the late-inning loss.

The stat line for Delce in game one was four runs off of seven hits, she struck out 9 batters and didn't allow a walk over seven innings.

"We'll talk through it, and we'll get her on track," Deifel said about Delce's performance. "There's not really anything to really fix, you know, she pitched a heck of a game against a very good offense, and she just had a mispitch." .

Arkansas came up in the bottom of the seventh inning but couldn't push a runner across the plate, and they dropped a heartbreaking game one, 4-3.

The Razorbacks looked to bounce back in game two after a heartbreaking loss Thursday night.
Freshman Hannah Camenzind cruised through the first two innings, retiring the side in consecutive innings. The Bulldog offense started to catch up with Camenzind when Ellie Armistead drove in Sydney Chambley with an RBI single to get the Bulldogs on the scoreboard. Sara Mosley came up a little later, she jumped on a pitch and hit it just over the center field wall, and Armistead scored to make it 3-0.

Georgia got the lead runner in the top of the fifth and stole second to set up Jayda Kearney. She hit a hard ground ball to freshman shortstop Atalyia Rijo, and she overthrew Halvorson to score Georgia's Dallis Goodnight scored on the play extending the Georgia lead 4-0.

Overall, the three freshman pitchers: Hannah Camenzind, Nikki McGaffin, and Robyn Herron, held their own. They limited this potent Bulldog offense to three earned runs (one unearned) off six hits and two walks with two strikeouts.

"I was really pleased with how they competed against this lineup. I thought they were able to keep their offense contained for the most part. That's what you try to do when you go up against a lineup like this. You try to create outs and contain them. They did a good job of that today," Deifel said.

Arkansas had a couple of chances in the sixth and seventh innings with runners on and one out but could not push a run across. The Bulldogs clinched the series with a 4-0 win and went for the sweep on Saturday.
Graduate Shelby Walters silenced the Hogs' attack the entire game as they managed to muster two hits.
Saturday

Razorback fans came out supporting the Hogs Saturday with the second most attended game in Bogle Park history with a fan attendance of 3,260.
Basketball Coach Eric Musselman and Gymnastics Coach Jordyn Weiber attended games over the weekend to show support for the softball team.

"Our fans are incredible… They stuck with us because the start of the game wasn't pretty. The fans got a great finish, so I wouldn't trade our fans, our stadium, or our environment for anything," Deifel said.

Dallis Goodnight led the game off with a triple, and Sara Mosley hit a sac fly to left field to score Goodnight and take an early 1-0 lead. Goodnight came up in the second inning with two runners on and hit a ground ball up the middle, and scored Sydney Kuma to extend the lead to 2-0.
The Bulldogs would tack on another run when Davis singled to left field and scored Kearney from second, 3-0 Georgia.

The turning point for the Razorback offense was in the fourth inning. They loaded the bases with one out, and sophomore Reagan Johnson slapped a hit over the shortstop into left field to score sophomore Kacie Hoffman and junior Hannah Gammill to close the gap 3-2.


Gammill came up again in the bottom of the sixth inning, and she hit a 1-0 offering over the left field wall, her fourth home run of the season, to tie the game up at 3-3.

"I don't know what her vertical was before she got to first, but when she saw it go out, she might have hurdled Lenny at first. It was just joy, and what we saw a little bit too was an exhale from Hannah," Deifel said about Gammill's home run. Graduate transfer Kristina Foreman completed a dazzling unassisted 4-3 double play to get the Razorbacks out of the inning. That would give them momentum heading into the bottom of the seventh inning with hopes of completing the comeback.
It looked like Georgia was probably going to take the lead back. They had runners on the corner with no outs, and Chenise got a strike out, and then we turned a double play to get out of it, Deifel said on the unassisted double play in the sixth inning.

That double play to end the top of the seventh inning brought the crowd to their feet, and the energy in the stadium was palpable.
Kramer came up first, and she flew out to the right field for the first out of the inning.
Halvorson was up next; she took the first two pitches out of the zone. Cylie Macy tried to sneak in a rise ball past her, and Halvorson connected with the pitch, sending it over the left field wall to give Arkansas a dramatic come-from-behind 4-3 win.

"That was the exact pitch I was looking for," Halvorson said on the pitch she hit to end the game. "Before, she had thrown it to me twice in the prior at-bat, and I took them. So, I knew she was going to come with it at some point, and that's what she did."

Halvorson said that she had hit a game-winning hit in a run-rule game once before the walk-off, but this was her first game-ending home run.
"It feels a lot better on this side; I'll tell you that," Deifel said on Saturday's win. "It literally felt like the reverse of the game on Thursday night, where they had a lot of momentum. Then it just kind of turned like a little bit and then we never really gave it up again, and so I'm just really proud of this group."
What's Next?

Arkansas travels to Conway for the second home and home series game with the University of Central Arkansas Bears. The game can will stream on ESPN Plus, and the first pitch is set for Tuesday, April 11, at 6 p.m.