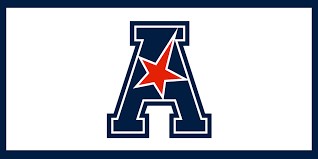 The American Athletic Conference Football Media Days, set to commence next week in Arlington, Texas, is set to be a vibrant amalgamation of some of the nation's top college football talents and distinguished head coaches. For the first time, Arlington will play host to the event, which will see 40 student-athletes convene at Live! By Loews over two days, July 24-25.
The event will kick off at 3 p.m. CT on Monday, with media sessions continuing into Tuesday, culminating in press conferences with the 14 head coaches. The American's Commissioner, Mike Aresco, will deliver his remarks on Tuesday at 8:30 a.m. CT, followed swiftly by the announcement of The American's preseason media poll results.
The schedule is packed with opportunities for the press and media to engage with the attending student-athletes and coaches, in addition to the structured press conferences. Breakout sessions and upon-request vis-à-vis meetings will be accommodated during the Monday afternoon block. The first day's events will culminate with The American Kickoff Dinner, a casual, Texas-style dinner where coaches, student-athletes, and conference and institutional administrators will mingle with the media and bowl officials.
Among the student-athletes attending this year's Media Days, ten received all-conference honors last season, including four from Tulane, the 2022 American Athletic Conference Champions. Tulane, who also defeated USC in the Goodyear Cotton Bowl and finished the season ranked No. 9 nationally, will be represented by QB Michael Pratt, center Sincere Haynesworth, defensive lineman Patrick Monroe and defensive back Jarius Monroe.
UTSA, the 2022 Conference USA title holders, will bring along QB Frank Harris, the 2022 CUSA MVP, and veteran safety Rashad Wisdom. Significantly, nine of The American's 14 teams will have their projected starting quarterbacks in attendance. Three of these quarterbacks have won New Year's Six bowl games in their careers, including Pratt; South Florida's Gerry Bohanon, and Rice's JT Daniels.
Live coverage of The American Media Days will be aired on ESPN+, featuring interviews with student-athletes from all 14 teams, and coverage of each head coach's press conference. The event promises to offer a unique glimpse into the upcoming season's prospects, with an impressive lineup of athletes and coaches set to attend.
The American Athletic Conference Football Media Days represent a significant moment in the college football calendar, as it sets the stage for the season ahead. As the attendees gather in Arlington, the anticipation and excitement for the new season is palpable. With so many accomplished student-athletes and coaches in attendance, it promises to be a fascinating insight into the prospects and preparations of some of the nation's top college football talents.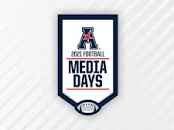 2022 American Athletic Conference Media Day Attendees 
UAB
Head Coach Trent Dilfer
Jackson Bratton LB
Jacob Zeno QB
Charlotte
Head Coach Biff Poggi
Jalon Jones QB
Eyabi Okie DL
East Carolina
Head Coach Mike Houston
Shane Calhoun TE
Jeremy Lewis LB
Florida Atlantic
Head Coach Tom Herman
Armani-Eli Adams S
Evan Anderson DL
Larry McCammon III RB
Chaz Neal OL
Memphis
Head Coach Ryan Silverfield
Jaylon Allen DL
Simeon Blair DB
Seth Henigan QB
Jacob Likes OL
Navy
Head Coach Brian Newberry
Will Harbour LB
Lirion Murtezi C
North Texas
Head Coach Eric Morris
Jett Duncan OL
Mazin Richards DL
Rice
Head Coach Mike Bloomgren
JT Daniels QB
Luke McCaffrey WR
Myron Morrison LB
Josh Pearcy OLB
South Florida
Head Coach Alex Golesh
Gerry Bohanon QB
Rashad Cheney Jr. DL
SMU
Head Coach Rhett Lashlee
Marcus Bryant OL
Tyler Lavine RB
Elijah Chatman DT
DeVere Levelston DT
Temple
Head Coach Stan Drayton
Jordan Magee LB
E.J. Warner QB
UTSA
Head Coach Jeff Traylor
Frank Harris QB
Rashad Wisdom S
Tulane
Head Coach Willie Fritz
Sincere Haynesworth C
Patrick Jenkins DL
Jarius Monroe DB
Michael Pratt QB
Tulsa
Head Coach Kevin Wilson
Braylon Braxton QB
Kendarin Ray S